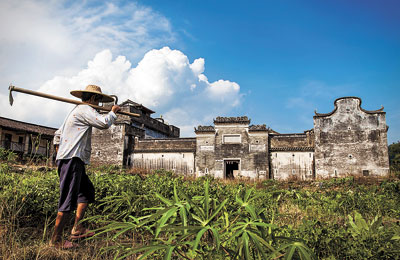 SHAOGUAN is one of the coolest cities in Guangdong with beautiful mountains and rivers, and an average temperature of about 28 to 29 degrees Celsius in summer. Why not take your family and enjoy a cool summer getaway in Shaoguan over the weekend?
    Yunji Mountain
    Yunji Mountain in Xinfeng County is also an ideal place for a cool summer getaway.
    It is the highest mountain in the Pearl River Delta region and is famous for its maple trees. There are many types of maple trees in the area.
    The spa is another must-try in Xinfeng. The Yuntianhai spa and forest holiday resort is the province's first spa built in a mountain forest. Other recommended spa venues include Jiangyuan spa resort and Yunji Mountain spa resort.
    Yunji Mountain is the headwater of the Xinfeng River. Water from the well-known Xinfeng Water Reservoir supplies residents living in Huizhou, Dongguan, Shenzhen and Hong Kong areas. Sandie Waterfall by the river is also a must-go place.
    Traditional Hakka-style dishes such as tofu, duck, pork, fish and rice wine are all worth a try.
    Transport: Take a coach to Xinfeng from the long-distance bus stations in Shenzhen and take a bus to the mountain.
    Lengquantan
    Located in Madun Village in Wengyuan County, Lengquantan is an ideal place for water fun in the summer.
    The average temperature in the summer is about 21 degrees Celsius, which is perfect for drinking and swimming.
    Water facilities have been built in the area. There is also a swimming pool with a 1,000-person capacity.
    Situated in a mountainous area, it is also a nice place for summer hiking.
    Try staying at one of the small inns operated by local villagers. Most of the inns offer clean accommodations, traditional Hakka-style cuisine and leisure facilities and bars, which are nice options for family trips and small parties.
    You must try the steamed fish when visiting Lengquantan.
    Transport: Take a train or coach to Shaoguan from Shenzhen and transfer to a bus to Lengquantan.
    (Wang Yuanyuan)
    Shendushui County
    Shendushui County is one of the seven minority ethnic autonomous counties in Guangdong Province. It also has an old military base.
    The Shendushui Landscape Corridor is also known as the mini Jiuzhaigou. Along the corridor, there are mountains and the beautiful Qinghua River. It will also lead you to several popular scenic spots including Mantang Hakka Round House, Huaguo Mountain Spa and Chebaling.
    Mantang Hakka Round House is a large national-level cultural relic. Known as the No.1 Hakka-style round house in Guangdong, it was first built in 1833. Covering an area of more than 20,000 square meters, there are 777 rooms, including six temples and 17 conference halls.
    Well-known Hakka cuisine is also a must-try.
    Transport: Take a train or coach to Shaoguan from Shenzhen and transfer to a bus to Shendushui.