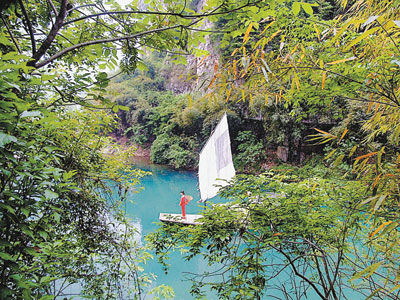 A THREE GORGES RIVER CRUISE DOWN THE YANGTZE RIVER HAS ALWAYS BEEN A POPULAR ACTIVITY DURING THE SUMMER. A CRUISE ALONG THE YANGTZE RIVER IS A UNIQUE WAY TO EXPERIENCE THE BEAUTIFUL SCENERY AND CULTURAL RELICS OF THE RIVER.
    A river cruise
    The most common route for a river cruise of the Three Gorges begins in Chong-qing and ends in Yichang, Hubei Province (the Three Gorges are between these two cities). Most cruise tours are three-night trips. It is also possible to cruise up the river from Yichang to Chongqing. This takes a bit longer since you're heading upstream, but the price is lower because more people choose to travel in the opposite direction.
    There are a number of options for cruising the Three Gorges.
    An internationally owned cruise ship is the most expensive and most tourist-friendly option. Prices vary depending on the boat, the time of the year, and the class of cabin. During summer vacation, which is the most popular time for Three Gorges tours, a trip can cost more than 2,500 yuan (US$407) per person.
    Locally owned cruise ships are a lot cheaper, but are still comfortable. Prices range from 400 to 1,000 yuan during the summer. However, most of these ships don't stop at any scenery attractions so it may not be an ideal option for those who prefer to explore their destinations more casually.
    A hydrofoil tour is another option. Hydrofoils are small, fast boats that can do the Three Gorges tour in about one day as opposed to three. Most hydrofoil tours start in Wanzhou, which is about a three-hour drive from Chongqing, and go as far as the Three Gorges Dam. Hydrofoil tours are exciting because the boats sail at a high speed, but they don't stop at scenery attractions either. The entire trip costs about 400 yuan.
    Many people choose to stay overnight in Wanzhou and do side trips from there.
    Beautiful sceneries
    A regular Three Gorges cruise trip starts at Baidicheng (White Emperor City). This spot has great views of Kuimen, the entrance to the Qutang Gorge. Tourists can then travel through Qutang Gorge, which is only 8km long but boasts impressive steep cliffs and a narrow water passage.
    After Qutang Gorge, the next stop is likely to be Wushan. Most cruise ships stop here so passengers can take side cruises in smaller boats through the Lesser Three Gorges. Many travelers consider this one of the highlights of the trip.
    After Wushan, cruise ships will travel through the Wu Gorge. The Wu Gorge is about 40km long and features sheer cliffs with jagged peaks.
    The next place to stop is at Badong. From there you can take a tour of Shennong Stream where there are many small gorges.
    The third and final gorge is Xiling Gorge, which is about 80km long.
    There are some well-known ancient cities and towns along the gorges. Recommended stops include the "Ghost City" in Fengdu, Zhangfei Temple, and Badong.
    Traditional Delicacies
    Most of the delicacies offered on the cruise ships are Sichuan and Hubei cuisines. Although the ships offer a wide range of selections, they are not cheap. For those who want to enjoy traditional cuisines and snacks, it is better to get off the boats.
    There are many farmers markets around most of the ports, offering special local foods at reasonable prices. Compared with traditional Sichuan cuisine, food in the Three Gorges area is less spicy.
    Recommended delicacies include cold shrimp, carrot dumplings, tofu, and fish.
    Transport: Fly to Chongqing from Shenzhen airport and take a cruise ship to the Three Gorges. For those who want to travel by hydrofoil, you can fly to Chongqing and take a coach to Wanzhou from Chongqing.(Wang Yuanyuan)