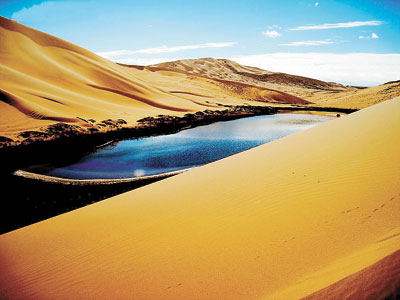 IF you are tired of the busy city life, why not take a break and explore the wonderlands of your dreams. Here are some recommended places across China that can bring your romantic dreams to life.
    Nanjiabawa Mountain, Tibet
    Nanjiabawa Mountain is full of wonderful legends because of its soaring peaks.
    As the most eye-catching attraction in the prefecture of Nyingchi, Nanjiabawa Mountain is the 15th highest peak in the world. The main peak of Nanjiabawa is 7,782 meters in height and is known as "the father of icebergs."
    There are several meanings of "Nanjiabawa" in the Tibetan language. One of them is "burning thunder and lightning," and another is "the spear that shoots upright to heaven."
    However, since the mountain is covered with deep snow and mist all year around, it is hard to see the real face of its colossal triangle body.
    The foot of the peak has many hot springs and exuberant vegetation, which is perfect for both leisure and exploration.
    The mountain is one of the most difficult climbing routes to conquer, and it is a popular challenge for climbers from around the world.
    Transport: Fly to Chengdu, Sichuan Province, from Shenzhen airport, and then fly to Nyingchi from Chengdu.
    Badain Jaran Desert,
    Inner Mongolia
    Badain Jaran Desert is a desert that spans Gansu Province, Ningxia and Inner Mongolia autonomous regions. It covers an area of 49,000 square kilometers. By size, it is the third-largest desert in China.
    The desert is home to some of the tallest stationary dunes on earth, some reaching a height of more than 500 meters.
    The desert also features over 100 lakes that lie between the dunes, some of which are freshwater while others are extremely saline. The desert is named after the lakes, which means "mysterious lakes" in Mongolian.
    Besides beautiful scenes, there are other tourist attractions in the area.
    Bilutu Peak is the world's highest stationary dune, rising over 500 meters and peaking at 1,609 meters above sea level. Upon reaching the top, there is a clear view of the surrounding dunes as well as the colorful lakes.
    Badain Jaran Temple is a well-preserved Tibetan-Buddhist temple located in the center of the desert. It was built in 1868 beside a lake. The temple has been well preserved and invites visitors to explore its many attractions, including statues, woodcarvings, artifacts and a small white pagoda.
    Other must-see attractions include the ancient city of Khara Khoto and rock paintings of the Yishan Mountain.
    Transport: Fly to Hohhot, capital of Inner Mongolia, and rent a jeep or take a train to the desert.
    (Wang Yuanyuan)