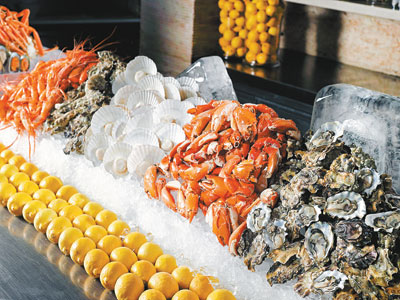 THE Show Kitchen at Grand Hyatt Shenzhen is offering a sensational seafood buffet that is rich in both variety and flavor every night throughout September.
    Bursting with fresh taste straight from the ocean, the "Seafood Market" promotion includes an expanded seafood-on-ice selection, as well as the chef's specialties, prepared in Chinese, Western and Japanese styles throughout the restaurant's open kitchens.
    The Show Kitchen's ice bar will feature a wide array of seafood, including Boston lobster, Canadian jade snails and Alaskan king crab legs, among other shellfish, crustaceans and clams.
    Premium seafood specialties will be prepared in various styles by the chefs in the open kitchens. From the Chinese kitchen, each guest will be able to enjoy braised sea cucumber with abalone sauce, while those who prefer baked oysters can help themselves at the Western kitchen. The Japanese kitchen features grilled oysters in a rotating variety of styles in addition to its wide range of sushi, sashimi and seafood tempura.
    The seafood on ice and seafood specialties will be offered on a rotation basis, featuring different choices each day, and the promotion is available every night from 5:30 p.m. to 10:30 p.m. from Sept. 1 to 30. The weekday buffet dinner is priced at 368 yuan (US$59.9) per person from Monday to Thursday and 418 yuan per person from Friday to Sunday. All prices are subject to a 15-percent service charge. Children from ages 6-12 will enjoy a 50-percent discount while those under 6 dine for free.
    Tel: 2218-7338
    Add: 1881 Baoan Road South, Luohu District(SD News)