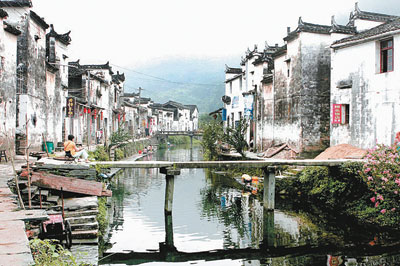 THE China Institute of City Competitiveness recently published the ranking list of China's Most Beautiful Counties of 2014. Yangshuo, in the Guangxi Zhuang Autonomous Region, was first on the list, followed by Fenghuang in Hunan Province, Tonglu in Zhejiang Province and Wuyuan in Jiangxi Province. Dapu in Guangdong Province is also on the list. According to the institute, the selection was based on the counties' developments in city planning, traditional culture, special architecture, rural customs, natural resources and public reputation. This week, we continue the tour to discover the beauty of these counties.
Tonglu, Zhejiang Province
    Located near Hangzhou, the capital of Zhejiang Province, and situated on the upper Fuchun River, Tonglu is a well-known ancient county with a history of more than 1,770 years. It is also the home of the She ethnic group.
    This small county is where people can escape polluted cities, take a stroll through nature, and experience local culture through opera, embroidery and ceramics.
    Some notable destinations include Baiyunyuan scenic area, Babisong Garden, Yaolin Cave, Langshijintang Beach and Yangshanfan Village.
    Fenshui is the largest suburb of Tonglu. About 30 kilometers from downtown Tonglu, Fenshui is a beautiful place along the Fuchun River.
    Daqishan National Forest Park would be the first option for visitors interested in nature. It has crystal-clear streams and pools, diverse vegetation, gigantic but lifelike rocks, uncountable types of birds and tiny insects and fresh air. It is very easy to get there from downtown by public transport and taxi.
    Many ethnic festivals are held year-round in the county's local villages. For example, one of the most well-known traditional festivals is the Flower Festival at Yangshanfan Village, which is held in the spring when peach blossoms bloom across the countryside.
    Fresh farm produce such as vegetables and fruits are must-buys in Tonglu; however, for souvenirs, traditional gifts such as embroidery and ceramics are ideal choices.
    Because of its special geographic location, the fish are must-try delicacies in Tonglu. Other recommended foods include lamb stew, tea-flavored chicken, vinegar carrot, tofu and bamboo shoots.
    Transport: Fly to Hangzhou from Shenzhen airport, and take a coach to Tonglu.
    Wuyuan,
    Jiangxi Province
    Tucked between scenic Huangshan Mountain and Sanqing Mountain, Wuyuan is known as "the most beautiful countryside in China." The most beautiful and popular time to visit Wuyuan is March and April, when the golden canola flowers are in full bloom.
    Wuyuan has at least 50 well-preserved, century-old villages. The area is dotted with Huizhou-style houses with white walls, black roofs, elegant eaves and dark green paving stones, all relics of the county's glorious past.
    Many people don't know that Wuyuan is a heaven not only for canola flowers, but also for birds. The Spring Festival is the best time for bird watching in the area. For example, Yuanyang Lake is the largest habitat for wild mandarin ducks in China.
    There are also local delicacies such as dried fish, mashed tofu, sweet and sour gooseneck and fruits you can try.
    Transport: Fly to Jingdezhen from Shenzhen airport and get to Wuyuan by coach.
    (Wang Yuanyuan)