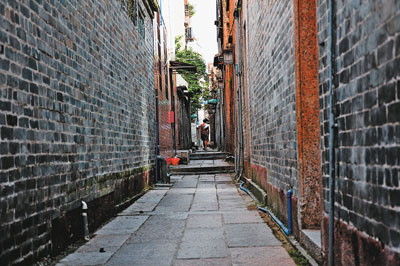 Luo Songsong
    songsongluo@126.com
    TWO hundred kilometers away from Shenzhen, an ancient village has been prospering for more than 1,000 years in Guangzhou.
    Crowds of villagers walk leisurely on bustling stone pavement lined with grocery stores, barbershops and fruit stands where bicycles, electric motorbikes, tricycles and small trucks drive in and out of an archway inscribed with the golden Chinese characters of Huangpu Village.
    Walking up staircases and through alleys, two vivid stone lions stand on either side of an ancestral hall called Yuxu Hall at the entrance of the village. With three big empty censers of various shapes facing it, the hall is a place where the young from different family clans worship their ancestors during festivals.
    Although the inscribed patterns on the walls and roof have faded away with time, the temple is the liveliest place in the village. To the left of it, a big and luxuriant banyan is draped with numerous red ribbons inscribed with wishes while the smell of burning incenses permeates the air under the dark roof.
    In the village, about 200 ancestral halls are relatively well preserved, but there are no religious activities held in them anymore. Some have been transformed into museums, art galleries and gift shops while a few halls have been abandoned and are falling into ruin.
    At the corner of one alley, you may come across a comfortable house where you can have a taste of tofu or ginger milk pudding and can write postcards to friends and loves. In the network of alleys that crisscross the village, scenes of kids playing may slip you back into your childhood temporarily.
    Since the Song Dynasty (960-1297), Huangpu has been the seaport for Guangzhou and became the only Chinese port open to foreign trade in the late Qing Dynasty (1644-1911). However, nothing remains of its glorious past except several museums located in the heart of the village and along the bank of the Pearl River that explain its importance in China's trading history.
    The bank of the Pearl River is lined with a dozen of renovated buildings and archways in the local architectural style. Standing on the bank, a dozen tourists wait to board the only old ferry to the other side where various fruits and vegetables are planted.
    In the moonlight, the elderly chat, women and children dance on an open square, young lovers walk hand in hand and teenagers skateboard and play. Just across the river, Guangzhou Tower, the tallest building in the city, dazzles.
    It's hard to say which way of life is better.
    Transportation:
    Add: Huangpu Village is located in Haizhu District near the Xinzhou interchange on Xingang Road East, Guangzhou
    Public transport: Take the subway and get off at Wanshengwei, the interchange of Line 4 and 8. Walk out of Exit B, turn right and go to the bus stop. Take bus 564 or 762 and the final stop is the entrance to the village