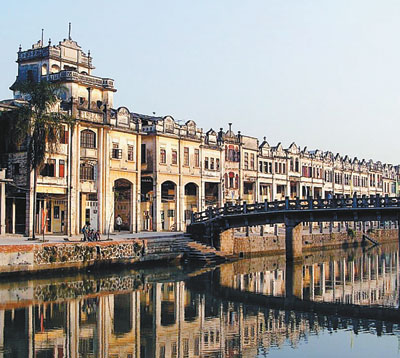 THE annual National Day holiday is coming again, and many people may have already made their travel plans. For those who don't have plans to take a long trip, two UNESCO World Heritage Sites in Guangdong are perfect for a two-day getaway from the busy metropolis.Danxia Mountain, ShaoguanAlso called Chinese Redstone Park, Danxia Mountain in Shaoguan City in north-central Guangdong is a world-famous geological park. China has the world's largest area of Danxia, or red stone geomorphology, the majority of which is found on this mountain.
    In 2010, the mountain was named a World Heritage Site as a world-famous UNESCO geopark. More than 600,000 tourists visit the mountain each year.
    The mountain is made of reddish sandstone that has eroded over time into a series of mountains surrounded by cliffs and various unusual rock formations.
    The scenic area contains more than 680 stone peaks, fortresses, walls, pillars and bridges. Many stones take the shape of the human body, birds, and animals.
    Danxia Mountain consists of many other wonderful scenic spots, including Zhanglao Peak, Yangyuan Hill, Xianglong Lake and Jinhe River. At the foot of Zhanglao Peak, which is an ideal place to view the sunrise and sunset, there is a grotto temple that was built during the Northern Song Dynasty (960-1127). Biezhuan Temple, which lies in the middle of Zhanglao Peak, is one of the 10 most notable temples in Guangdong Province.
    Vegetarian food in Danxia Mountain is highly recommended, and one of the most famous temples for the cuisine is Jinshiyan Temple. When dining at this temple, men and women have to sit separately, and monks help serve the dishes. The rule is that everyone has to finish all the dishes and clean the dishware themselves afterwards. Other recommended local delicacies include tofu, smelly fish, and snails.
    Tickets during holidays are 120 yuan per adult.
    Transport: Take a train from Shenzhen Railway Station to Shaoguan City or a bus to Shaoguan from most city bus stations, and then take a taxi to the mountain.Diaolou, Kaiping
    Kaiping is a UNESCO World Heritage Site because of its unique diaolou culture and the influence of overseas Chinese culture.
    The diaolous were built at the beginning of the 19th century, mostly by overseas Chinese. These immigrants saved money and returned to their homeland to build unique Chinese homes using what they learned from Western architecture. At that time, the area was infested with thieves and mountain bandits, and the buildings were designed to be difficult to infiltrate.
    Tangkou, Chikan and Xiangang are the three must-visit towns to explore the history and beauty of the diaolous. Zili Village is where director Jiang Wen's movie "Let the Bullets Fly" was filmed.
    The best way to visit these buildings across the fields is by bicycle. Take a camera to record the beautiful autumn scenes of rural Guangdong Province.
    Recommended delicacies include locally grown fresh vegetables, various snacks made with vegetables and salted glutinous rice balls.
    There is no ticket for visiting Chikan and the other towns, but tickets for visiting Diaolou and the Film City in Chikan are 180 yuan per adult.
    Transport: Take a coach from Shenzhen to Kaiping and rent a bicycle there.
    (Wang Yuanyuan)