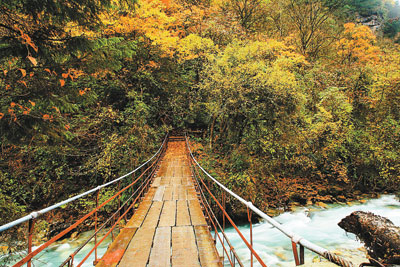 For the past two weeks, Shenzhen Daily has introduced six spots that are home to the best fall leaves across the country. However, you don't need to travel that far to appreciate stunning fall leaves and impressive landscapes. With their pure and delicate color, the red leaves of Guangdong are surprisingly beautiful for autumn lovers. Here are some places that are ideal for fall scenes.
    Nanling National Park, Shaoguan
    Lying on the northern tip of the province, Nanling National Park is probably the best place to explore autumn in Guangdong. Home to the biggest primitive forest in Guangdong, visitors can see snowfall here every year. Even though the cool fall breezes are just barely being felt in the southern part of the province, Nanling is already immersed in deep autumn.
    As crisp air creeps over the peaks, the forest turns from green to gold, then orange and finally fiery red. The climax of the spectacular redness usually arrives in mid-November. The best place to see red leaves in Nanling are at the base of Xiaohuangshan Mountain.
    Many of the province's highest peaks are located in the park, including the 1,902-meter-tall Shikengkong Peak and the 1,888-meter-tall Shijiuling Peak. They are the first and second highest peaks in the province.
    The mountain has an abundance of waterfalls, springs and rivers. The water has never been exposed to pollution.
    There are also more than 2,000 types of plants and a number of rare animal species, making the forest a fun place to learn about biology and geography.
    Fresh fruits, such as berries, kiwis and litchis, are all must-tries in autumn.
    The park is also great for autumn hiking. The recommended route is from the front gate of the park to Shikengkong Peak via Ti'er Power Plant, Qinshui Valley and No. 4 Forest Lane.
    Transport: Take a coach to Shaoguan from any Shenzhen coach station and then take a taxi to the park.
    Shimen National Forest Park, Conghua
    Located in Conghua, Shimen National Forest Park is also known as "Fragrant Hills in Guangdong Province" because of its maple trees, which cover an area of more than 2 million square meters.
    Since October, the park has become a red sea with various types of leaves. There can be no more romantic experience than walking beside the river in autumn.
    The park also has plum trees covering an area of 660,000 square meters. You can take a short trip to the park again in winter to enjoy the red and white plum blossoms. The tree leaves turn red every year from late November to January.
    There are several other good locations nearby, including Shimen Scenic Spot, Shizao Scenic Spot, Valley Adventure Area and Tiantangding Scenic Spot.
    After a long day of walking, you can also unwind in Conghua's well-known hot springs.
    Transport: Take a coach to Conghua from any Shenzhen coach station and then take a taxi to the park.
    Nanxiong, Shaoguan
    Nanxiong is a small city in the northeast of Guangdong Province, which is well-known for its gingko forest.
    The leaves of gingko trees turn chartreuse to golden yellow during the middle of November and early December. Covering nearly 67 square kilometers, Nanxiong is the lowest altitude natural gingko area in China.
    The trees are mainly spread throughout Pingtian, Youshan, Maozifeng, Zhutian and 18 other towns. As the "Hometown of Gingko Trees," there are more than 5,000 gingko trees. Among them, more than 1,000 trees are over 100 years old, and the oldest one is more than 1,600 years old.
    When autumn comes, the leaves gradually change to yellow. The fallen leaves make the area a golden sea. This may be why Nanxiong is a hot spot for photographers in fall and winter. Recommended spots to see gingko leaves are Pingtian Town and Maozifeng forest.
    Nanxiong is also well-known for its red earth), which covers an area of 1,800 square kilometers. It is also a popular choice for passionate photographers.
    Transport: Take a coach to Shaoguan from any Shenzhen coach station and then take a bus to Nanxiong. (Wang Yuanyuan)