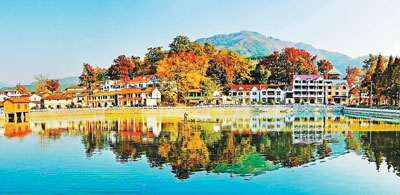 Jiangnan is an area south of the lower reaches of the Yangtze River, including the Yangtze Delta. Its rivers, bridges, ancient townships, folk customs and beautiful natural scenery have always served as inspiration for traditional Chinese painters. Late autumn and early winter scenes in Jiangnan are as romantic as they are in the other seasons.
    Zhinan Village,
    Zhejiang Province
    Situated in the East Tianmu Mountain area in Lin'an, Zhejiang Province, Zhinan Village is a beautiful ancient village that is about 80 kilometers away from Hangzhou, the capital of Zhejiang Province.
    The area is known for its beautiful and ancient trees, including about 400 Chinese sweet gum trees, Tianmu iron trees and ginkgoes. Photographers love to visit the small village this time of year for its beautiful mixture of golden ginkgo leaves and red maple leaves.
    In front of the village gate is a natural pool. For generations, the pool has played an important role in villagers' lives and been a symbol of a prosperous life.
    Terraced fields covering an area of 313 square kilometers are also situated close to the village and turn the area into a golden sea every autumn.
    The most fun activity in the village is to experience the villagers' lives. For only 80 yuan a day, you can stay at a villager's house and enjoy locally grown vegetables cooked by local women. Most of the village inns are decorated in traditional Jiangnan style.
    Other recommended places in the neighboring areas include Taihu Lake, Daming Mountain and Tashan Mountain.
    Transport: Fly to Hangzhou from Shenzhen airport and take a taxi or a bus to the village.
    Xiazhu Lake Wetland,
    Zhejiang Province
    Also known as Fangfeng Lake or Fengzhu Lake, Xiazhu Lake is located in Deqing County of Zhejiang Province. It is the largest naturally formed wetland scenic spot south of the Yangtze River with an area of about 10 square kilometers.
    The lake stands in a picturesque setting surrounded by mountains. Whenever a fall breeze blows, it creates an extremely beautiful sight with clear water, blue sky and colorful mountains. The scent of osmanthus flowers also highlights the beauty of the lake in autumn.
    The wetland area is also home to a wide variety of wild animals, such as white cranes, mandarin ducks and river deer. It is also a haven for birds. Other recommended places in the neighboring area include Mogan Mountain, Jianchi Lake, Luhuadang and Wuling Village.
    Local delicacies cooked with fresh fish from the lake are must-tries when visiting the lake.
    Transport: Fly to Hangzhou from Shenzhen airport and take a coach to the village.
    Lingyin Road,
    Zhejiang Province
    Located near West Lake, Lingyin Road may be one of the most romantic spots in autumn in Hangzhou with ancient temples and beautiful autumn trees.
    Lingyin Temple is without a doubt the premier showpiece of West Lake and is notable also as one of the 10 most famous Buddhist temples in China.
    The presence of the temple on this site can be traced back to the Eastern Jin Dynasty (317-420). It contains a significant collection of Buddhist literature together with many other treasures.
    Around the temple area on Lingyin Road, there are many sapindus trees. In autumn, all of the golden leaves shine in the sunshine, making the area an ideal place for romantic lovers.
    Other recommended places in Lingyin area for fall leaves include Xishan Mountain, Shiren Peak and Fengshu Peak.
    Although Hangzhou is also famous for its delicious local cuisine, a more pleasant dining experience on Lingyin Road is the Lingyin Vegetarian Restaurant. The vegetarian dishes on offer are typical of the Chinese culinary style.
    Transport: Fly to Hangzhou from Shenzhen airport and take a taxi to the temple. (Wang Yuanyuan)