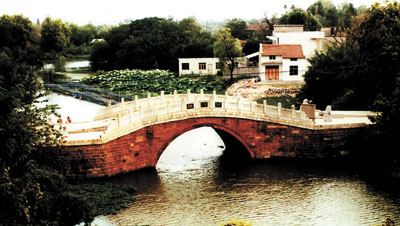 AS Christmas and New Year get closer, it is time to plan another fun trip with families and friends. This holiday season, why not get into a car and tour around the province to experience the beautiful winter scenes in South China. This week, we will first set off for Shixing, the "No.1 ancient county in northern Guangdong."
    Shendushui, Shixing
    Shendushui in Shixing is one of the seven minority ethnic autonomous counties in Guangdong Province. It also has an old military base.
    The Shendushui Landscape Corridor is also known as the mini Jiuzhaigou. Along the corridor, there are mountains and the beautiful Qinghua River. It will also lead you to several popular scenic spots, including Mantang Hakka Round House, Huaguo Mountain Spa and Chebaling.
    The Shendushui Ecological Zone is about 20 kilometers away from downtown Shixing. There are more than 10 mountains in the zone. Among them are Jiangjundong Mountain, Jigong Mountain, Wuzhi Mountain, Huangchaodianbin Mountain and Wenhao Mountain. Mountains and rocks in the area normally have very strange shapes. For example, the shape of Wenhao Mountain is very similar as the head of Lu Xun (1881-1936), a well-known Chinese writer and scholar, while another rock looks just like Guanyin sitting on a lotus chair.
    Most of the area is still undeveloped, which makes the small town an ideal place for those who enjoy a quiet escape.
    Shendushui is the home to the Yao and She ethnic groups. There are many special cultural events in the local villages, such as Chaowang Festival, which features singing, dancing and traditional worship ceremonies.
    Special roasted chicken made by the local Yao people is a must-try when visiting Shendushui.
    Chebaling National
    Nature Reserve Park
    Located between Shixing and Quannan counties, Chebaling National Nature Reserve Park is an ideal spot to embrace nature.
    Covering an area of 16,110 hectares, the park is one of the most beautiful villages in the province, with green mountains, crystal-clear rivers and fresh air.
    The Chebaling Nature Museum is a must-go spot for plant and animal lovers. Built in 1991, the museum has a wide collection of specimens, including more than 20,000 plants and 11,000 animals.
    The park is a nature museum of plants and wild animals. There are 1,928 types of wild plants growing here. It also has 1,552 types of animals. Among them are the South China tiger and the leopard.
    Other recommended places include the Nanshui Water Reservoir, which is an artificial lake covering an area of 38 square kilometers, and Hanlong Temple, which was originally built in the Han Dynasty.
    Local delicacies include fresh vegetables, fish and Hakka-style tofu.
    Mantang Hakka
    Round House
    Located in Aizi Township, Mantang Hakka Round House is a large national-level cultural relic.
    Known as the No.1 Hakka-style round house in Guangdong, it was first built in 1833. Covering an area of more than 20,000 square meters, there are 777 rooms, including six temples and 17 conference halls.
    A wealthy local businessperson built the house in 1832. During its peak time, there were 800 residences living in the house. It is now an important museum for studying ancient South China architecture styles and Hakka culture.
    Traditional Hakka cuisine is a must-try when visiting the round house. Recommended dishes include Shixing-style mushrooms, rice noodles, tofu with pork stuffing, salted chicken and pork soup.
    Route: Drive to Shixing via Guangzhou-Shenzhen Expressway, Jingzhu Expressway, 371 Road, 106 Road and 323 Road. (Wang Yuanyuan)