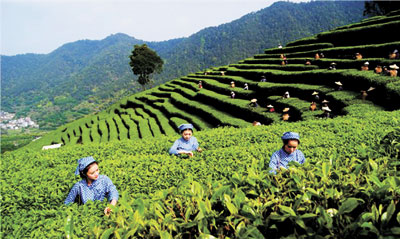 LIVING in Guangdong Province, you may not have a chance to celebrate a white Christmas and snowy New Year. However, there are some fun winter activities that you can only enjoy in southern China this time of year. Here are some more fun winter fruit-picking destinations for you.
    Shatangju, Conghua
    Shatangju is a type of small tangerine known as the "sugar tangerine." It is much smaller than a regular tangerine with very sweet and juicy meat.
    Conghua is one of the most famous homes to Shatangju and has many pick-your-own farms where city folk can enjoy relaxing farming fun. Among them is the Xiangmi Mountain Ecological Orchard in Conghua, which has a large fruit farm covering an area of 0.4 square kilometers. It is an all-you-can-pick farm.
    Another must-visit place in Conghua is Nankun Mountain.
    The mountain covers an area of some 1,077 hectares. Of particular note is the mythical Tiantang Peak, rising to 1,280 meters. There are more than 30 scenic spots in Nankun Mountain with ancient pine trees, strange stones and spectacular waterfalls.
    Beautiful in the varying weather of all four seasons, this is an ideal hiking and camping area. However, warm clothes are needed as the temperatures at night are very low in wintertime.
    Spas are also famous in Conghua.
    Chinese gooseberries, winter bamboo shoots and Baifeng tea are local specialties.
    Transport: Drive to Conghua via Guangzhou-Shenzhen Expressway, Airport Highway, Jiebei Expressway and G105.
    Buses from Shenzhen to Conghua leave at Bao'an Bus Station, Qiaoshe Bus Station, Longhua Bus Station and Longgang Long-distance Bus Station every day.
    Shaddock, Meizhou
    Shaddock is one of the most representative fruits in Guangdong Province, and Meizhou was acknowledged as the "Home to Chinese Golden Shaddock" in 1995.
    In Meizhou, there are many orchards for shaddock, and most of them are open to the public.
    Picking shaddock requires no special techniques. They are easy to pick and taste the same no matter their shape.
    Meizhou is also a popular destination for those interested in Hakka culture and tradition.
    As well as being unspoiled, Meizhou has several established tourist destinations, such as Qianfo Tower, Yinna Mountain, Hakka Museum of China, Yannanfei Tea Holiday Resort and the commemorative museum of Ye Jianying, one of the founding leaders of the People's Republic of China who was born in Meizhou.
    Qiaoxiang Village is a recommended place when visiting Meizhou. Located at the foot of Luhu Mountain, the village is known as "the No.1 ancient village of the Hakka group." It has a history of more than 500 years and is a famous hometown for many overseas Chinese.
    Covering 1.5 square kilometers, the village has many well-preserved, ancient Hakka houses built along the mountain. More than 40 of them were built before the 1940s.
    Most of the villagers live quiet farming lives. A common evening scene includes elderly villagers chatting or playing chess together under large, aging trees and women cooking dinner together.
    Hakka dishes such as salted chicken, tofu, stuffed vegetables and steamed pork belly with preserved vegetables are recommended.
    Transport: Drive from Shenzhen to Meizhou via Guangzhou-Shenzhen Expressway, Guangzhou-Huizhou Expressway, Huizhou-Heyuan Expressway and Meizhou-Heyuan Expressway.
    Buses from Shenzhen to Meizhou leave at Yinhu Bus Station, Bao'an Bus Station, Shekou Bus Station, Longhua Bus Station, Longgang Long-distance Bus Station and Shajing Bus Station every day. (Wang Yuanyuan)