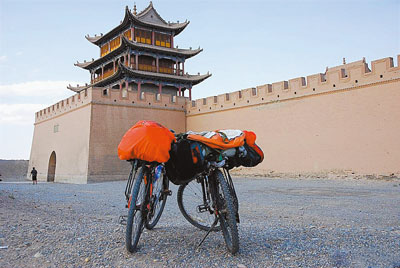 CYCLING is now a popular activity among many young Shenzheners in the city, and riding to Tibet is the most popular route. In fact, there are many places in China that offer stunning views for cyclists. In the upcoming weeks, we are going to introduce you to some of the best cycling routes across the country.
    Urumqi to Dunhuang
    Starting from Urumqi in the Xinjiang Uygur Autonomous Region to Dunhuang in Gansu Province, this route is a classic journey for experiencing the bleakness of northwestern China.
    Known as the home of singing and dancing, the land of fruit and the place of gold and jade stones, Xinjiang boasts of its vast expanse, beautiful landscapes and unique folk customs. There are over 1,100 registered scenic areas in Xinjiang, the most in the country.
    One of the most famous scenic spots along the way is Sayram Lake, renowned as a pearl of the Silk Road. The lake is the largest and highest alpine lake in Xinjiang. With an altitude of 2,073 meters, it is located in Botala Prefecture, Urumqi. The oval-shaped lake is about 30km long and 25km wide, covering an area of 455 to 460sq km. The deepest point of the lake measures 92 meters. The water in the lake is pure, clear and peaceful, attracting flocks of ducks and swans. Flourishing cypress and cedar trees cover the whole mountain range. Herds of horses and sheep graze on the pastures.
    As a famous historical and cultural city of China, Dunhuang used to be an important city along the ancient Silk Road, and it's celebrated for its grottoes and frescoes. It is the westernmost city of the Hexi Corridor, and its long history has accumulated and bred its unique culture.
    Highlights of Dunhuang include the Dunhuang Mogao Grottoes, Crescent Spring, the Jade Gate Pass and Yadan Landform.
    A recommended route from Urumqi to Dunhuang is to ride via Daban City, Tulufan City, Shanshan, Yiwanquan Village, Hami City, Luotuoquanzi Village, Xingxingxia Township, Liuyuan Township, Xihu Township and Dunhuang City.
    The best time for a cycling trip in this area is from August to October. The whole journey takes about 10 to 15 days and costs about 800 to 3,000 yuan (US$130 to 487.81) without flights.
    Roads along the way are very good for cycling; however, precautions must be taken to avoid strong winds and high temperatures.
    Transport: Fly to Urumqi from Shenzhen airport.
    Ride-the-lake ride
    at Qinghai Lake
    Located in the northeast of Qinghai Province, Qinghai Lake is a unique upland lake that is perfect for a cycling trip, with its landscape consisting of yellow canola flowers, white snow mountains and Tibetan customs.
    Many Chinese cyclists like to ride along the lake in spring and bicycle clubs can often be seen in Xihai Township next to the lake.
    An ideal route is to ride from Xihai to Hudong, Heima River, Quanji, Niaodao, Gangcha and return to Xihai. The total length is about 360 kilometers and can be finished in about four days. You can also enjoy a short stop at Niaodao Island.
    It is not a very difficult route, but riders, particularly those with heart disease and high blood pressure, are encouraged to take a rest when tired.
    Bicycle repair workshops can be found easily and delicious Tibetan food is served at many small restaurants run by locals.
    The best season for the trip is from July to August, and the best time to watch birds on Niaodao Island is from May to July. Total cost of the trip excluding flights is about 1,000 to 3,000 yuan.
    Transport: Fly to Xining, capital of Qinghai Province, from Shenzhen airport via Xi'an, capital of Shaanxi Province and take a coach to the lake.
    (Wang Yuanyuan)