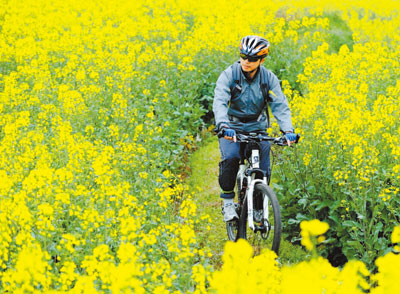 CYCLING is now a popular activity among many young Shenzheners. In the past two weeks, Shenzhen Daily has introduced six routes with stunning views and exciting experiences. Here are two more recommended routes.
    Round-the-island ride
    in Hainan Province
    Hainan Province is China's most popular destination for travelers seeking a warm winter by the sea, and it may be the best province for cyclists in China because most of its land is conducive to cycling.
    There are also many tourist attractions around Hainan such as Lingshui, Bo'ao, Xinglong, Sanya and Wuzhi Mountain. Other highlights include Dragon Tower in Wenchang, Xinglong Spa and Monkey Island in Lingshui.
    A recommended route is to ride around the island from Haikou via Lingshan Township, Sanjiang Township, Wenchang City, Dongjiao Township, Bo'ao Township, Sanya City, Wuzhi Mountain City, and Xiongzhong
    County. The whole journey is about 650 kilometers.
    Winter and spring are the best times for cycling due to the area's moderate temperatures and sunny weather.
    It takes around eight to 10 days to finish the trip and costs around 500 to 2,000 yuan without flights.
    Transport: Fly to Haikou, capital of Hainan Province, from Shenzhen airport.
    Shanghai to Urumqi
    Starting from Shanghai and riding to Urumqi in the Xinjiang Uygur Autonomous Region, this route is an ideal choice for those who enjoy a long-distance ride.
    The journey crosses seven provinces and offers an exciting experience from eastern to western China.
    Although the scenery along the route may not be as stunning as other routes, it is a great trip for learning about the country's various cultures and long history.
    Highlights of the route include many well-known historical and cultural relics in cities such as Nanjing, Xinyang, Nanyang, Xi'an, Pingliang and Jiayuguan.
    A recommended route is to ride from Shanghai to Urumqi via Wuxi City, Nanjing City, Hefei City, Xinyang City, Nanyang City, Xi'an City, Pingliang City, Lanzhou City, Wuwei City, Jiuquan City, Jiayuguan City, Liuyuan Township, Xingxingxia Township, Luotuoquan Township, Habi City, and Tulufan City. The whole journey is around 3,900 kilometers.
    It is not a difficult route to ride, but it is still a big challenge because of the long distance and varied climates. To combat potential difficulties brought by the changing climate, it is better to ride from May to June or October to November. The route is not recommended for new cyclists.
    It takes around 40 to 50 days to complete the journey and costs around 2,000 to 12,000 yuan.
    Transport: Fly to Shanghai from Shenzhen airport.(SD-Agencies)