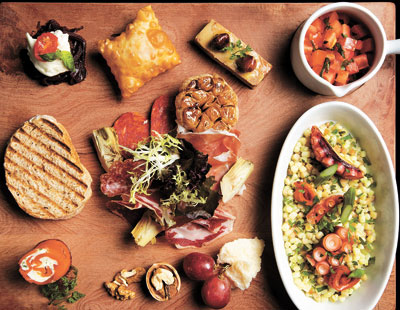 GRAND Hyatt Shenzhen has new Italian chef Marco Ragoni at its La Terrazza restaurant. This gifted and experienced chef is ready to bring guests an exquisite Italian culinary journey.
    Hailing from Sardinia, Italy, Ragoni will be in charge of the culinary program at La Terrazza. He has worked at various luxury hotels and restaurants in Italy, Ireland, Switzerland and Qatar. With his Italian accent and warm smile, he provides a cheery family feeling when meeting people. Simple is how Ragoni describes himself. "I am quite simple in whatever I do whether it be in life or in work. I believe that simple is the best. Dishes will release their best flavors if you respect the ingredients," he says.
    His hometown at Sardinia, which is located on the southern coast of Italy, is a place that practices a natural way of life. In addition to its amazing scenery, Sardinia is the home of not-to-be-missed Italian delicacies. Its dishes have an emphasis on the quality of raw products, cooking methods and presentation. Prepared under the bright sun of the Mediterranean, Sardinian cuisine features seafood cooked with tomatoes and olive oil, usually paired with local Malvasia or Grenache wine. This focus is the foundation of Ragoni's culinary philosophy, ensuring the quality of his flavors and presenting a taste of home.
    Tel: 2218-7338
    Add: 1881 Bao'an Road South, Luohu District (SD News)