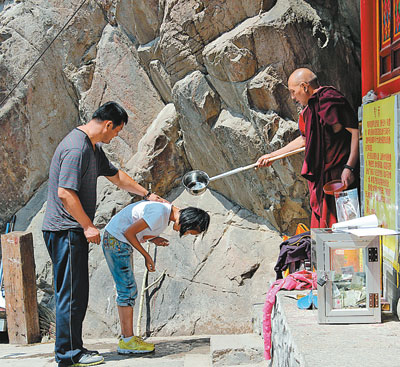 James Baquet
    jamesbaquet@gmail.com
    THE temple at Guanyin Cave was new-looking, with halls that looked Chinese on the exterior. The only Tibetan touch was the rows of Tibetan characters painted on the beams.
    The interior was another story. Tibetan-style temples I've seen in China have been incredibly ornate, with numerous figures in cases lining the walls. Not being too familiar with Tibetan iconography, I gazed on their beauty with appreciation — but not much understanding.
    The cave is located a long climb above the halls, and had been a place of pilgrimage for monks and devotees — especially from Tibet and Mongolia — for hundreds of years. Before modern transportation it must have been unimaginably remote.
    A few small halls lined the path up to a gated compound. Another hall stood inside; behind was the surprisingly small cave, with another nearby housing a spring.
    While I chatted the best I could with a monk from Tibet whose Mandarin was arguably worse than mine, something interesting happened.
    A family of Chinese-Canadians appeared. The mom and dad spoke marginal English, but the kids spoke native English — and not-so-fluent Chinese.
    One of these, a teenage girl, had come for a ritual dousing in the icy spring water. She couldn't really explain the ritual to me; when a monk and her parents explained it to her, she admitted that she didn't understand the key words well enough to translate them.
    I watched the "baptism" with interest before making my way back.A Chinese-Canadian girl receives a ritual rinse near Guanyin Cave on Wutai Mountain.
    James Baquet