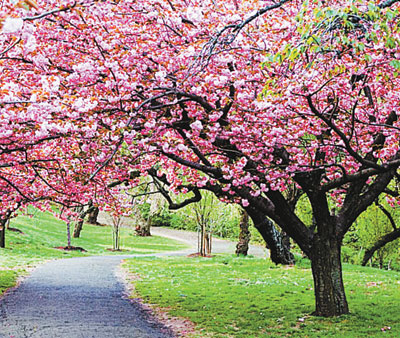 SPRING in Guangdong is all about flowers. Treat yourself to a trip to some of the older cities across the region to take in the stunning beauty of the flowers found there during this time of year.
    Peach blossoms,
    Lianzhou
    Lianzhou is a small town near Qingyuan City, bordering Hunan Province to the north.
    The home of many peach trees in the province, Lianzhou has many peach blossom farms that cover an area of 800 hectares in Longping and Longtanjiang areas. The type of peach tree that grows in this region is known for its colorful blossoms.
    The best time to see the flower is from February to mid-April.
    With a long history for over 4,000 years, Lianzhou has been the heart of Taoism in South China since ancient times. The Jingfu Mountain Taoist Temple can be traced back to the Southern and Northern Dynasty (386-589).
    Other well-known areas include Lianzhou Underground River, Tanling Lake, Grand Dongshan Hot Spring and Huangchuan Three Gorges.
    Route: Drive to Lianzhou via Guangzhou-Shenzhen Expressway, Guangzhou Bei'erhuan Expressway, Guangzhou-Qingyuan Expressway and Qingyuan-Lianzhou Expressway.
    Cherry blossoms,
    Fogang, Qingyuan
    In Japanese culture, cherry blossoms exemplify the transient nature of life because of their short-lived blooms. In China, they symbolize femininity or love thanks to their fragrant petals.
    Wuhan University in Hubei Province is a famous place to view cherry blossoms, but there are also numerous places in Guangdong to enjoy this romantic flower.
    Located in Qingyuan, Fogang Tianye World (Fogang Green Field World) is now the largest base for cherry blossom in the province. It is also a popular resort that offers ecological and rural vacations.
    Besides flowers, the resort also holds various activities related to tea, such as a tea culture exhibition and tea tasting events.
    March and April are the best time to see the cherry blossoms.
    Route: Drive to Qingyuan via Guangzhou-Shenzhen Expressway, Guangzhou Bei'erhuan Expressway and Guangzhou-Qingyuan Expressway.
    Hong Kong orchid,
    Zhaoqing
    Zhaoqing has a good environment for many types of flowers during the spring due to its warm weather and bountiful natural resources.
    Xinghu Scenic Area in Zhaoqing is said to be the largest base for Hong Kong orchid trees, and the best time to view them is in March.
    Another recommended place for flowers in Zhaoqing is Panlong Gorge. In spring, the peach blossoms thrive at the gorge, which is ideal for a family outing. The gorge, the largest natural oxygen bar in South China, is home to more than 100 waterfalls. Other must-do activities include rafting, hiking and getting spa treatments.
    Also, the azaleas at Dinghushan, a well-known tourism spot in downtown Zhaoqing, also bloom in March.
    Route: Drive to Zhaoqing via Guangzhou-Shenzhen Expressway, Guangzhou-Sanshui Expressway, Guangzhou-Zhaoqing Expressway and G321.
    Plum blossoms,
    Yangshan
    Yangshan is a small town in Lianjiang City and is famous for its Shuikou Lianjiang Gallery and Shikengkong Mountain, Guangdong's highest mountain.
    Not many people know that Yangshan is also a perfect place to see plum blossoms in the province. At Pingdong Village in Yangmei Township, there are beautiful white plum trees covering an area of 33 hectares.
    There are also many rafting places in neighboring areas such as Huanglong Valley, Tianlong Valley, Gulong Valley and Xuanzhen Valley. Visitors can also tour ancient temples at Beishan Mountain.
    Route: Drive to Qingyuan via Guangzhou-Shenzhen Expressway, Guangzhou Bei'erhuan Expressway and Guangzhou-Qingyuan Expressway.(Wang Yuanyuan)