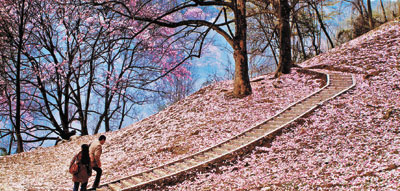 THE long winter will eventually end, and spring will arrive shortly. Here are more places that you can visit to get a jump on spring.Yaowang Valley,
    Sichuan Province
    Every spring, Yaowang Valley in Beichuan City, Sichuan Province, turns into a piece of art thanks to magnolia flowers in full bloom. The flower is also called wood pen flower, known for its bright color and rich aroma. It can also be used as medicine to treat rhinitis and low blood pressure.
    Yaowang Valley (Medicine King Valley) has large tracts of virgin wild magnolia forests. It has more than 1,800 registered magnolia trees.
    The region is rich in herbs, which supplies the raw ingredients for medicine production companies across the country.
    Wujiahoushan (Back Hill of the Wu's Family) is also nearby. Although the area is much less famous than Yaowang Valley, it is actually the largest base for magnolia flowers in the country with more than 60,000 registered trees.
    If you are not a big fan of crowded places, Wujiahoushan is a better place to visit.
    As the epicenter of the tragic earthquake in 2008, Beichuan is now rebuilding the entire city. The Beichuan Earthquake Memorial is a worth-visiting place for those who want to pay their respects.
    Transport: Fly to Chengdu, capital of Sichuan Province, from Shenzhen airport and take a coach to Beichuan.
    Xinghua,
    Jiangsu Province
    Located in Jiangsu Province, Xinghua may not be as famous as Wuyuan in Anhui Province for canola flowers, but it is still a place worth visiting due to its beautiful flowers planted in the water fields.
    The best time for canola flowers in Xinghua is mid-April and there is no other place in China where you can enjoy the beautiful golden view from a riverboat.
    Flowers, rivers, small villages, willow trees, wildflowers — Xinghua is home to all the elements of spring south of Yangtze River.
    The best place to enjoy canola flowers is in Dongwang Village, Ganggu Township. In the center of the scenic area, there is a three-floor tower which is the best spot to take pictures of the golden sea. From the tower, streams cut the canola flower seas into different shapes, which is quite a unique view that can be hardly seen anywhere else.
    Transport: Fly to Nanjing, capital of Jiangsu Province, from Shenzhen airport, and take a coach there.
    Xin'an River,
    Anhui Province
    Located in the Huizhou region, Xin'an River is another ideal place to see canola flowers across the countryside.
    For thousands of years, the river, which starts in Huangshan City (where Huangshan Mountain is situated), is famous for its crystal-clear water and beautiful scenery along the banks. Along the river, there are famous historic sites such as Baisha Bridge, Zhuchi Pool, Luofeng Mountain, Meicheng City, the residence of Liu Changqing and the Two Towers of Lingyun. It is also known as "the river of Tang poems," as many well-known poets from the Tang Dynasty (618-907) wrote poems about its beauty.
    In springtime, the canola flowers along the river are in full bloom, decorating the local ancient villages with golden necklaces. There are also many other plants such as peach blooms and loquat trees in the area.
    Any small villages in the area are worth visiting as the people who live there still follow a traditional Jiangnan lifestyle.
    It is an ideal place for photography, painting and to experience a traditional Chinese country life.
    Transport: Fly to Hefei, capital of Anhui Province, from Shenzhen airport and take a coach to Shitan. (Wang Yuanyuan)