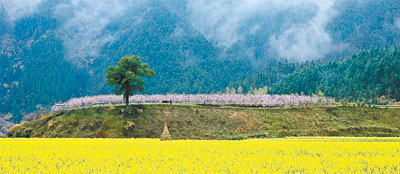 SPRING has always been an ideal season for traveling and exploring across the country. If you are a fan of exploring "unknown worlds," here are some recommended spring destinations that are not very well known.
    Taihui Mountain,
    Zhejiang
    Compared to crowded Wuyuan in Anhui Province, Taihui Mountain in Kaihua County, Zhejiang Province, is a hidden paradise for canola flowers in April.
    Known as the "Potala Palace of Jiangnan Region," the mountain turns into a sea of golden flowers when spring arrives. Canola flowers, spreading across the mountain for miles, grow on the terrace fields around local Anhui-style houses.
    As a part of the mountain range in Wuyuan, Taihui Mountain is about 42 kilometers away from downtown Kaihua. The highest peak is about 1,082 meters above sea level.
    Due to the large number of terrace fields on the mountain, it has become a unique landmark within the area and the most popular photo location in Zhejiang.
    Because the mountain is not widely known by the outside world, the locals are not very commercialized and still keep a traditional lifestyle. It is an interesting experience to stay with a local family for several days and enjoy a quiet getaway on this picturesque mountain.
    Other recommended local villages in the region include Changhong Village and Hongcun Village.
    Transport: Fly to Hangzhou, capital of Zhejiang Province, and take a coach to Changhong Township. Take a taxi to the mountain.
    When speaking of tourism destinations in Fujian Province, places like Xiamen, Wutai Mountain and Quanzhou are always many people's first choices. However, there is a small coastal area in the province that is widely known to professional photographers but not the public. This place is Xiapu.
    Xiapu is a typical small costal county with many fishing villages. What makes it so unique are its unpolluted beach and traditional fishing scenes.
    April is Xiapu's best time of year because that is when fishing season is in full swing.
    Many local fishermen still use traditional fishing techniques, which are rarely seen in many areas nowadays. Thousands of oyster shells are hung on the fishermen's houses and their wives are busy drying fresh seaweed that is collected by their husbands.
    From April to June, it is the best time to take pictures of fishermen collecting seaweed. Elegant egrets are another beach highlight.
    Transport: Take a high-speed train from Shenzhen to Xiamen from Shenzhen North Railway Station, and take a coach to Xiapu.
    Kuche, Xinjiang
    There are many old cities in the Xinjiang Uygur Autonomous Region, but Kuche may be the most representative one with a perfect mix of traditional style and ethnic urban life.
    The city is divided into two parts — the New Town where you can experience a modern Uygur lifestyle and the Old Town where you can explore a traditional ethnic touch.
    Similar to many old cities in Xinjiang, houses in the Old Town area are of different colors and elderly Uygur people can be seen going about their daily lives.
    Gudubazha is a must-go place when visiting the Old Town. As the most crowded place in the area, it is home to hundreds of shops and vendors selling traditional Uygur products such as clothes, pottery, snacks, accessories and carpets.
    Kiril Grottoes, one of China's four grottoes and one that was built before the more famous Mogao Grottoes of Dunhuang, is located in the neighboring area. Another recommended spot is Tianshan Grand Canyon Scenic Area.
    Transport: Fly to Kashi from Shenzhen airport and take a train to Kuche. (Wang Yuanyuan)