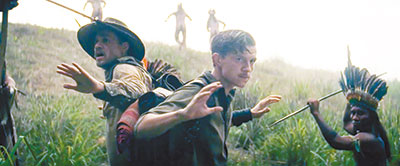 The film is about a British army officer who goes on a long journey into the South American jungle.
    Based on David Grann's 2009 best seller, writer-director James Gray's screenplay only includes a fraction of the historical and cultural information conveyed* in the nonfiction* book.
    It honors the spirit of physical risk, intellectual curiosity*, individual daring and self-sacrifice required to explore the unknown, to discover more about our origins and to map the world, which even 100 years ago had not been fully completed. Under scrutiny* here was the interior of South America and the origins of the Amazon.
    A British Army officer long posted in Southeast Asia, Colonel Percival Fawcett (Charlie Hunnam) comes from modest means, not the ruling class. In the interests of mapping hitherto uncharted* areas of eastern Bolivia and the imprecise* border area with Brazil, the elite Royal Geographical Society backs him in launching a small expedition* into an area that's a literal blank* on maps of the time.
    The opening stretch has Fawcett leaving behind his wife Nina (Sienna Miller) in 1906 on what promises to be a two-year venture into the jungle with his close army comrade Henry Costin (Robert Pattinson) and a tiny band of guides and porters*.
    Threats both natural and human are everywhere.
    The group moves up the river on a small barge*, and are caught off guard by a flurry of arrows launched by natives who look like they're stepping out of the early Iron Age. Tribes both friendly and hostile* occupy the Amazonian forest and, while Fawcett never knows which he'll run into, he develops a special confidence* that he won't be harmed; before long, he shows great talents as an explorer.
    Transforming Fawcett from a mere map-maker into an obsessive* is his belief that a great city lies buried somewhere in the jungle. Toward the end of the first journey he finds some ancient pottery and shards of other evidence for which no explanation is plausible*, making him believe that he could upend* all conventional notions about the history of the Americas.
    (SD-Agencies)