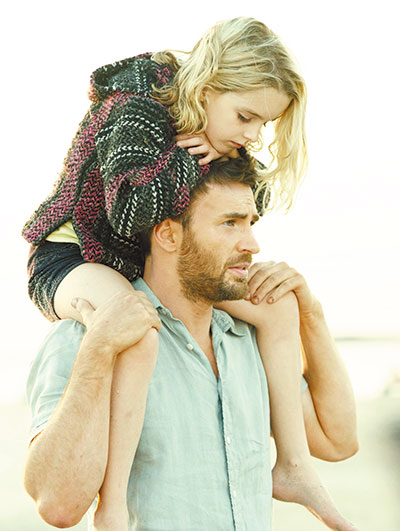 A teacher's amazed discovery of a genius* child; a custody* battle bitterly dividing family members; a single father becoming romantically involved with his little girl's elementary school teacher. Despite these familiar elements of Marc Webb's "Gifted," the comedy-drama manages to be both funny and moving.
    Chris Evans, taking a break from saving the world as Captain America, plays Frank, who has a heart of gold. Working as a boat repairman in a Florida coastal town, he shares a modest home with his 7-year-old niece* Mary (Mckenna Grace), the daughter of his sister, who committed suicide when Mary was just six months old.
    Mary, we soon learn, is a child prodigy*, having inherited* her mother's brilliance* for mathematics. So she's understandably frustrated* upon being asked to perform simple addition in her first-grade class. When teacher Bonnie (Jenny Slate) discovers her pupil's extraordinary abilities, she brings them to the attention of the school's principal (Elizabeth Marvel), who soon offers Frank the opportunity to place Mary in a school for gifted children, with a full scholarship*.
    Frank turns down* the offer, explaining that he wants Mary to lead a normal little girl's life unlike her mother, who was driven by her and Frank's wealthy mother Evelyn (Lindsay Duncan) to cultivate* her math skills whatever the emotional cost.
    When Evelyn suddenly shows up out of the blue*, she takes Frank to court to fight for custody of the little girl she recognizes as another prodigy. Meanwhile, Frank's neighbor Roberta (Octavia Spencer), who serves as a mother figure to Mary, watches with concern from the sidelines.
    All of the performances are terrific, even if Spencer's no-nonsense, voice-of-reason shtick* threatens to become tiresome. Evans underplays to fine effect as the emotionally conflicted Frank; Slate is winsomely appealing as the teacher who finds herself drawn to her student's hunky* guardian; and Duncan displays a droll*, deadpan humor that makes the grandmother surprisingly sympathetic.
    (SD-Agencies)