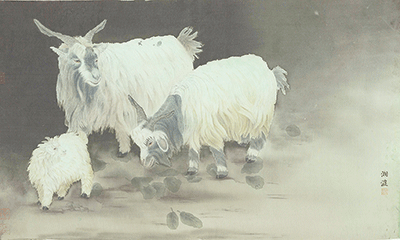 Zhang Yang
nicolezyyy@163.com
OVER 130 Chinese meticulous-style paintings, or gongbi paintings, by 10 outstanding young Chinese artists are being exhibited during the "Youth Koans – the 4th Guan Shanyue Art Museum Exhibition of Young Artists' Meticulous-style Paintings" at Guan Shanyue Art Museum.
According to the exhibition's curator Chen Junyu, the museum received over 500 works from young artists across the country within 10 days, and two prominent meticulous-style painters, He Jiaying and Chen Xiangbo, each nominated five artists from the applicants to display their works at the exhibition.
"The exhibition aims to offer a platform for young artists to express their understandings of meticulous-style paintings and encourage two-way communication between young and senior artists," Chen Junyu said.
Masterpieces by He and Chen Xiangbo are also on exhibition along with the 10 nominees' works at the museum. Born in 1957, He is a famed artist in China and a forerunner who has explored the ingenious blending of Chinese meticulous-style painting skills and Western painting styles.
Specializing in figure paintings, He is good at applying techniques of expression that are often used in Western realism, such as perspective, shading and lighting, in his meticulous-style paintings. "I strive to integrate Chinese and Western painting skills both on expressional and spiritual levels," he said.
He also emphasizes the abundance and harmony of colors in his paintings, often applying contrasting colors to enrich the color arrangements and balancing the colors with grays and simple backgrounds.
As the museum's director, Chen Xiangbo had studied directly under Guan Shanyue, a renowned master of Lingnan-style paintings, in the 1980s. Crowned with a slew of prestigious titles, Chen is now a famed artist in China best known for his meticulous-style paintings of flowers and birds.
Chen Xiangbo is not only skilled at portraying the vivacity and vibrancy of flowers and birds, he is also adept at embodying his thoughts and emotions in his works.
One of the salient features of his paintings is that they often reflect the spirit of the time. One of his most popular paintings is named the "Story of Spring," which features blossoming bougainvillea — the city flower of Shenzhen.
According to Chen Xiangbo, "The gorgeous bougainvillea flowers represent the power of life in the Shenzhen Special Economic Zone, the pioneering and innovative spirit of Shenzheners."
Dates: Until May 7
Hours: 9 a.m.-5 p.m., closed Mondays
Venue: Guan Shanyue Art Museum, 6026 Hongli Road, Futian District (福田区红荔路6026号关山月美术馆)
Metro: Line 3 or 4, Children's Palace Station (少年宫站), Exit B