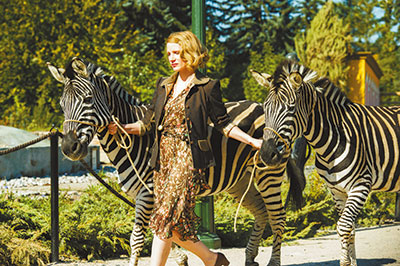 Directed by Niki Caro, this is a true story of a woman who sheltered Jews in the Warsaw Zoo during the Holocaust*.
Adapted from Diane Ackerman's book based on the diary of Antonina Zabinska, who, with her husband Jan Zabinski, sheltered* 300 Polish Jews at the Warsaw Zoo during World War II, "Zookeeper's Wife" opens on an idyllic* note. It's the summer of 1939, and Antonina (Jessica Chastain), who runs the zoo with Jan (Johan Heldenbergh), is doing the morning rounds.
Then all hell breaks loose. Germany invades Poland and bombs land on the zoo, sending animals scurrying* into the city. A camel trots down a debris-strewn street and a tiger sniffs a pile of rubble* as civilians look on.
Enter chief Nazi zoologist Lutz Heck (Daniel Bruhl), who offers to transport the zoo's surviving "prize animals" to Germany until the war is over (he wants to use them for "selective breeding" to create genetically superior animals). But rather than allow the zoo to be shut down in the meantime, Antonina and Jan convince Heck to let them run it as a pig farm to provide meat for German soldiers. The pigs are to be fed with garbage that Jan will collect daily from the Warsaw Ghetto*. What the zookeepers don't tell Heck, of course, is that Jan will also sneak* Jews onto his truck, hiding them under the litter.
And so a sort of underground railroad is born, with Antonina rushing new arrivals into the basement of the house she shares with Jan and their young son Ryszard (played first by Timothy Radford, then Val Maloku). "A human zoo," Antonina sighs, a notion that's visualized with typical literal-mindedness in a scene that finds her tending to* a injured Jewish teen (Shira Haas) cowering amid hay piles in one of the cages.
Knowing that Heck has fallen for* her, Antonina flirts* with him, using her wiles to earn his trust — and making Jan jealous. It's the movie's soapiest touch, but at least it brings the central couple down to earth a bit. In one scene that stands out in its vividness and specificity, Antonina pulls Heck into an embrace*, covering his ears so he won't hear the noises being made by the children hiding in the basement.(SD-Agencies)