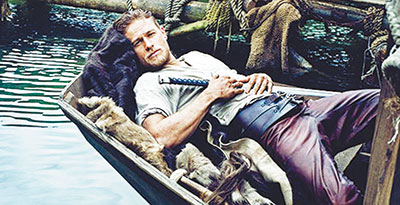 There's the heroic King Arthur of ancient legend, the romantic King Arthur of Chretien de Troyes, Malory, Tennyson and the pre-Raphaelites, and the mid-20th century pop culture King Arthur of "The Once and Future King," "Camelot" and "The Sword and the Stone." And now there's Guy Ritchie's King Arthur, who is a low-class tough* in ancient Londinium who, Excalibur in hand and muscled outlaws at his side, battles his way back to his birthright as royal leader.
"Game of Thrones" has its giant flying dragons, while "King Arthur" features the biggest elephants you've ever seen. The film plunges into the middle of a destructive battle that sees the treacherous* Vortigern (Jude Law) take away the crown from his older brother Uther (Eric Bana), who sends his wife and young son away before it's too late.
Where is the last place you'd expect to see the once and future king grow up? A brothel*, perhaps? When first met as a young man played by Charlie Hunnam, Arthur runs with some rough lads and considers himself "the bastard* son of a prostitute*." But when every man on the island comes to try his luck at pulling Excalibur out of the stone it's stuck in, Arthur goes along and then immediately succeeds in doing so, although passing out* in the process.
Vortigern reels Arthur in and does him the service of informing him of his true identity just before putting his brother's head on the block. But the young man has protectors, including a big brown eagle, a weird clairvoyant* called The Mage (Astrid Berges-Frisbey), who helps him see his past and his father's own destiny, and his old mates, who include the brawny* Bedivere (Djimon Hounsou) and the brilliant archer* Bill, played by Aidan Gillen, otherwise known as Littlefinger from "Game of Thrones."
Hunnam is game* for the rugged demands placed upon him and takes the physical punishment administered to him in stride*. Playing the figure of pure evil here, Law gives the malice of this man who would be king full rein, while Bana provides convincing contrast as the betrayed brother.(SD-Agencies)