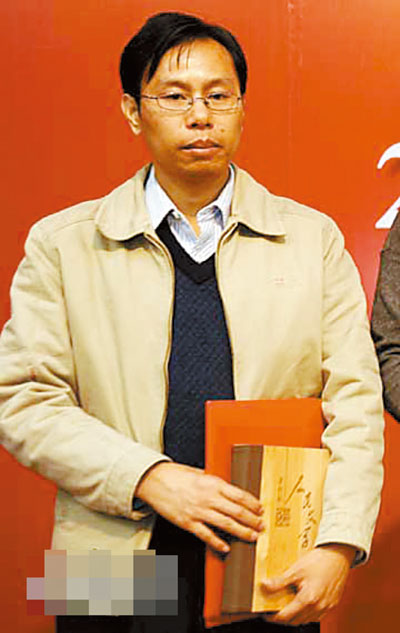 A WECHAT writing platform called 45 Centimeters has gradually drawn the public's attention with its unique perspective on depicting the lives of ordinary people. Shenzhen-based writers Xiao Xiangfeng, Wang Xianyou and Li Jiangbo, the founders of 45 Centimeters, use their spare time to visit factory workers as well as fishermen to learn their stories and later present these real stories to the public.
It has been said that the proper distance between two people is 45 centimeters. The platform's name is a reference to that and its hope of engaging personally with individuals.
Struggles and breakthrough
45 Centimeters was established in December 2016. At the beginning it was a struggle for the writers to create content that they were both happy with and attracted readers.
"The content of our stories at that time was different from our more recent stories. We spent lots of energy and time creating stories with humorous tones, but they didn't win the recognition of the public because of the superficial depictions of life," said Li.
After returning to their hometowns over the Spring Festival holiday in 2017, the three writers wrote stories based on their experiences at home. To their surprise, the stories won applause from other writers as well as their readers. It was in that moment that they recognized their strength and direction.
"We were worrying that our readers wouldn't be patient enough to read long articles at the beginning. However, we found that readers actually preferred the long articles. We realized that stories with only high clicks are just easily forgotten by the public so we decided to write meaningful stories," Li said.
Finding source materials for stories is the basis of nonfiction writing, therefore how to find real and dramatic materials quickly became the top concern of the writers.
To Xiao, his top priority is to have dialogue that is realistic and touches people's souls. While the latter is difficult to achieve, Xiao believes that stories cataloging the human experience have a chance of achieving it.
Although common stories of ordinary people can easily be found, Xiao stressed that only stories with dramatic plots can attract readers. "When we find material for stories, we lay great emphasis on depicting dramatic changes in one's life," he said.
Both Wang and Li were fiction writers before, and they have made great efforts to change their writing styles.
Li said, "When we decided to start writing nonfiction it was very difficult for us at first. By the nature of the work we were required to communicate with strangers to learn their stories. So we went to villages, neighborhood shops and factories in order to get closer to people. The process was very difficult for me, because I am actually a shy person."
Value of nonfiction writing
Among the works of 45 Centimeters, many of the articles were inspired by stories from urban villages in the city. For Xiao, life in urban villages here is an interesting source of inspiration as well as a good window into the urbanization process.
"Of course we will target other areas in the city in the future, but at our current stage, we are focusing more on stories from urban villages in the city," Xiao said.
Since the establishment of 45 Centimeters, the writers have spent almost every weekend out doing interviews and for their weekday nights, they take this time to write. Naturally, it has been a struggle for them to balance work, writing and family life.
However, the three writers still insist on writing. According to Wang, their determination mainly comes from two sources.
"There are many people whose stories and lives are left untold and even ignored in today's society. We feel it is our mission to reveal the lives of migrant workers, farmers in mountains and left-behind elders to the public. While recording life through writing, I have found pleasure and meaning in my own creative efforts," said Wang.
Xiao, who is known for his work "Dictionary: Industrial Life in South China," regards Shenzhen as a great place for writing nonfiction.
He said, "Shenzhen is a pioneer city in China as well as an experimental field of reforms. A large number of stories related to social changes take place here. There is huge potential for nonfiction writers here." (A Ding)