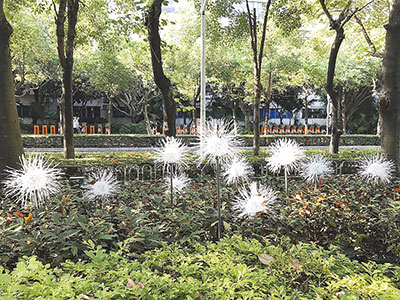 Cao Zhen
caozhen0806@126.com
OCCASIONALLY you may find yourself with friends in the posh OCT-LOFT, spending an afternoon admiring contemporary art, enjoying a night of live music or simply reading a book in a cozy cafe. Now until late August, OCT-LOFT will have a bit of a surprise waiting for visitors with new art installations abound in the complex's outdoor green areas.
"In the Name of Plants — The Past and Future of an Old Factory" is a unique art experience, showcasing Chinese and Japanese art in OCT-LOFT. Curated by Wu Dar-kuen, director of Taipei Artist Village and Treasure Hill Artist Village, the exhibition is comprised of 10 exhibited items, from metal flowers to lighting installations. Visitors can pick up a map of the exhibition at the Starbucks or near buildings E6 and F4 in the south area.
Once a cluster of factories and warehouses, OCT-LOFT is now a cultural hub for creative design, contemporary art and avant-garde music. A collection of abandoned industrial buildings have been given new life. The artists of the exhibition attempt to seek memories from the plants and build connections between visitors, trees and the entire complex.
"More than 30 years ago, a group of people gathered here to launch this massive factory area. Today, the trees have matured and gained a certain patina. Through art and culture, we try to revive some of the living memories and welcome visitors to join the artists in opening up your senses and freeing your mind," according to the exhibition's curatorial profile.
Shenzhen artist Dai Yun's "Breezing and Fan Dancing" is a cool response to the hot summer. Several old Chinese cattail leaf fans sway on a matte stainless steel "tree" near Donkey Bar in the south area. Dai said: "When we get used to the comfort brought by air conditioning, we easily forget traditional fans. Since the fans are not used anymore, I made this large project and placed the fans on the grass to present a poetic image in a verdant environment that harkens back to previous times."
On the way from the south area to the north area, there are a few brick steps where you can find copper and aluminum flowers inserted into cracks in the wall. "Before We Disappear" was created by Taiwanese artist Chu Shu-wan, who is fascinated with the old and rotten walls of OCT-LOFT. "The metal flowers will rust as time passes by, just like the walls. I hope people will observe the environment we live in before the beautiful details disappear," said Chu.
Along Xiangshan Street East which separates the south and north areas, dandelion lights dot the green bushes. These beautiful lights were designed by Taiwanese artist Derrick Huang. Titled "A Reason for Flying," the dandelions create a peaceful and serene atmosphere for passers-by. "This work uses dandelions to symbolize a happy scene. The installation intends to help visitors by offering them a place for a relaxing short break, so they can unwind and prepare for their next adventure, like dandelions flying away in the wind in search of a new world," said Huang.
At night, visitors can enjoy the chic "Glowing Light Project" by Taiwanese artist Chuang Chih-wei on the roof of building A5 (near Old Heaven Bookstore) in the north area. Using lasers and electronic control boards, it is a new media piece integrated with the local landscape. For this piece, Chuang picks an artistic area for the backdrop and when night falls, the light will be projected from the buildings and cover the surrounding area as if plants are occupying the entire space, creating a green forest floating in darkness.
Public art projects in OCT-LOFT were first launched in 2011 with a handful of domestic artists painting murals on old buildings, in an attempt to link art with the public. In 2012, local designers decorated decades-old elevators with paintings, videos and installations to make art common and accessible in a public space. In 2013, 11 designers from Shenzhen, Guangzhou and Hong Kong were invited to design creative maps and posters for OCT-LOFT, letting artists and the public rediscover the creative nature of OCT-LOFT.
At this year's exhibition, Shenzhen artist Nut Brother is inviting visitors to name 10 trees inside OCT-LOFT. The trees, which have been numbered, are around OCAT Shenzhen in the south area. Visitors can send their suggestions to WeChat "oct-loft" by July 3. The organizer will announce selected names July 14.
Dates: Until Aug. 31
Venue: OCT-LOFT, Nanshan District (南山区华侨城创意文化园)
Metro: Line 1, Qiaocheng East Station (侨城东
站), Exit A; or Line 2, Qiaocheng North Station (侨城北站), Exit B