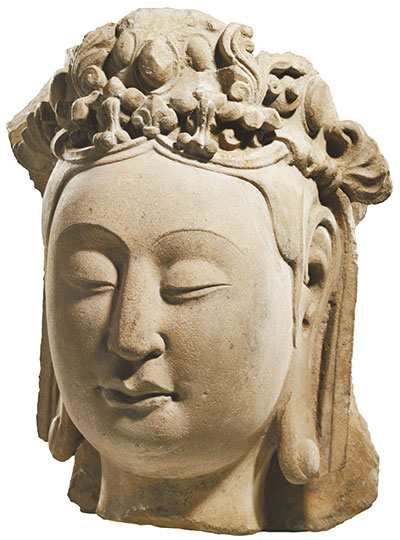 Cao Zhen
caozhen0806@126.com
"PINGCHENG, Jinyang — Northern Dynasties Relics From Shanxi," a new exhibition at the Shenzhen Museum, is showcasing more than 200 treasures from the Northern Dynasties (386-581) unearthed in Datong and Taiyuan in Shanxi Province. It is the first time for the Shenzhen Museum to hold an exhibition specializing in the history and culture of the period.
Established by the northern Xianbei nomadic people, the Northern Dynasties' territories were in North China and consisted of five regimes: Northern Wei (386-535), Eastern Wei (534-550), Western Wei (535-557), Northern Qi (550-577) and Northern Zhou (557-581). While in the same period, the Southern Dynasties in Central and South China consisted of four short-lived regimes: Liu Song (420-479), Southern Qi (479-502), Liang (502-557) and Chen (557-589).
Guo Xuelei, vice curator of the Shenzhen Museum, noted that the exhibition is a great opportunity for the Shenzhen public to learn more about the culture of this important era in Chinese history.
"Though the Northern and Southern dynasties was a period of civil war and political chaos, it was also a time of flourishing arts and culture, advancements in technology, and the spread of Mahayana Buddhism and Taoism," said Guo. "Historians believe that Northern Wei Emperor Xiaowen's policy of sinicization among his Xianbei people and the equal-field system in agriculture had significant influence on later political governance during the Tang Dynasty (618-907)."
Pingcheng (present-day Datong) was the capital of Northern Wei and an important starting point on the Silk Road, the oldest international trade route for the Chinese, linking them to Central and Western Asia, and ultimately some European and African countries. Near Inner Mongolia, Pingcheng was also a stop-off point for camel caravans moving from China into Mongolia and beyond.
Jinyang (present-day Taiyuan) used to be the alternative capital of the Eastern Wei and Northern Qi. Envoys and business groups from different countries came to the city and left a rich collection of relics.
"Pingcheng and Jinyang also witnessed the confrontation and convergence of the grassland nomadic culture and the Central Plains Han culture. Researching this period of history has referential significance on our nation's current Belt and Road Initiative," said Guo.
On loan from Shanxi Museum, Shanxi Archaeology Institute and Datong Museum, the exhibited items include sarcophagus marbles, silverware and bronzeware, pottery figurines, stone lamps, glazed porcelain kettles and vases. Some items exhibit characteristics of nomadic or western desert cultures, while some imported treasures reflect the lucrative trade on the Silk Road.
The nine marbles from the sarcophagus of Yu Hong's Tomb are the most striking items at the exhibition. Made from fine white marble, the sarcophagus was used to bury Yu Hong who died in 592 in Bingzhou (present-day Taiyuan). The marbles were carved with vivid and complex reliefs of Persian Sassanian lifestyles and Zoroastrianism customs, showing scenes of banquets, dances, hunts and travels. When the sarcophagus was unearthed in 1999, archaeologists speculated that Yu might have come from Central Asia near Persia or from western China and had served as an envoy in Persia.
Another stunning item is a 48cm-tall porcelain bottle decorated with a rooster head and a dragon handle unearthed in Taiyuan, dating back to 570. The dragon is biting the kettle's top as if it is drinking water. The bluish yellow glaze is bright and smooth, demonstrating the exquisite craftsmanship present in the Northern Dynasties.
Groups of pottery figurines unearthed from various tombs of nobilities are still in good condition. Dressed in northern nomadic outfits, male warrior figurines feature various facial expressions and postures, while female figurines dance with musicians playing the pipa, the dizi and the paixiao.
Visitors will marvel at the brilliantly crafted stone lamps and tomb-guardian beast stone sculptures. With a fierce human or beast face atop an animal body, the creatures served as guards at the entrance to the tomb chambers to scare away malevolent forces.
Together with figurines of warriors, servants, horses and camels, they provided protection to the deceased who normally were aristocrats and high officials.
Other stunning objects include a broken silver plate with an imprint of a Sassanian king hunting on it. Made in the third to the fifth centuries, it is a representative item of Persian Sassanian art and is the only one of its kind to be found in China.
Dates: Until Aug. 20
Open: 10 a.m.-6 p.m., closed Mondays
Venue: Shenzhen Museum, Block A, Civic Center, Futian District (福田区市民中心A区深圳博物馆新馆)
Metro: Line 2 or 4, Civic Center Station (市民中心站), Exit B