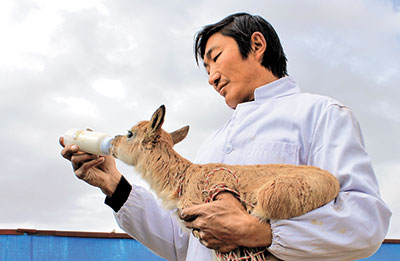 UPON hearing the news that China's Hoh Xil, aka Keke Xili, was put on the World Heritage List as a natural site, Lhalung Tsering, 42, was as proud as could be.
"Hoh Xil's inscription opens the door for global cooperation on animal conservation and scientific research," Lhalung Tsering said.
He has been patrolling Hoh Xil since the 1990s when poaching was at its most serious in the region. With an average altitude of more than 4,600 meters, Hoh Xil is a unique plateau with a special ecosystem, uncommon plants and distinct animals.
Hoh Xil is a region in the northwestern part of the Qinghai-Tibet Plateau. As the world's largest, highest and youngest plateau, it hosts many endemic species and is home to more than 230 species of animals, including wild yaks, donkeys, white-lip deer, brown bears and the endangered Tibetan antelope.
In 1997, a national nature reserve was set up in Hoh Xil to protect the Tibetan antelope. Lhalung Tsering recalled the days when he and his teammates would hardly sleep for days and had no food to eat, while they were tracking down poachers.
Now the Tibetan antelope population in Hoh Xil exceeds 60,000, and poacher's shots have not been heard in over a decade, according to Luo Yanhai, deputy director of the local forest police bureau.
Like many patrollers, Luo devoted his best years to the preservation of Hoh Xil and for that he has no regrets.
"At least today's children are able to see herds of Tibetan antelopes running and leaping in front of their eyes in the wild instead of in a zoo," he said.
Full conservation status was awarded to Hoh Xil in October, meaning the site is now protected by law. Over 90 percent of the region has been labeled as wilderness that requires the most strict protection.
"Due to the vast territory of the site, high-tech means are also being introduced to improve patrolling," said Wu Dejun, a local Party secretary.
Since October 2010, a protection coalition has been formed among Hoh Xil and its neighboring nature reserves in Tibet and Xinjiang to carry out cross-region anti-poaching and preservation missions.
A multi-level management system from the State to local communities has been established to preserve wilderness landscapes in Hoh Xil and to promote the proliferation of its animals, according to the nature reserve administration.
Gulangyu Island
Days before Gulangyu Island in eastern China's Fujian Province was included on the UNESCO World Heritage list, Dong Qinong, who has lived on the island for over 60 years, was frantically posting on his social media accounts.
Dong can speak about almost all of the local architecture and their multicultural history with great familiarity.
A former international settlement, the island features 13 consulates, as well as many churches, hospitals, schools and police stations, built by foreign communities from the middle to late 19th century.
In the early 20th century, the island attracted overseas Chinese elites, who returned and built private residences on the island, often with a mixture of eastern and western architectural styles.
Gulangyu has more than 2,000 intact historical buildings, making it one of the best-preserved international settlements in China.
As early as 2000, the local government introduced a regulation specifically to protect historical architecture on Gulangyu. In 2011, two more government documents were issued on the planning of the island. A year later, another regulation was put into effect to protect cultural heritage on the island.
According to Dong, buildings can not be torn down or repaired casually. The local government has strict requirements on the height, number and style of buildings on the island.
Liao Zhitang restores ancient buildings. He has repaired about 100 old houses since arriving on the island in 1995.
"Here on Gulangyu, only craftsmen who believe in the idea of restoring the old as the old, can be permitted and recognized," Liao said.
An active interaction with the real world is another way for ancient buildings on Gulangyu to be cherished and preserved, according to the local administration.
Gulangyu has the first piano museum and only organ museum in China, both established by Hu Youyi, an Australian-Chinese pianist and collector. The museums regularly host music festivals and contests.
"When I was a child, the sound of piano could be heard everywhere on the island," said Fang Site, a 34-year-old local pianist and curator of the organ museum. Her family was among the overseas Chinese who moved to the island in the early 1900s.
With the rapid growth of tourists in recent years, the island also faces problems that exist in many tourists spots. However, the local government has reacted to limit the vast numbers of tourists on the island, cracked down on pollution and illegal tourist guides, and preserved the appearance and lifestyle of "the garden at sea."
"The UNESCO inscription is not our ultimate goal, but a fresh new start for us to better preserve and inherit the spirit of Gulangyu for future generations," said Zheng Yilin, director of the Gulangyu administrative committee.
(Xinhua)