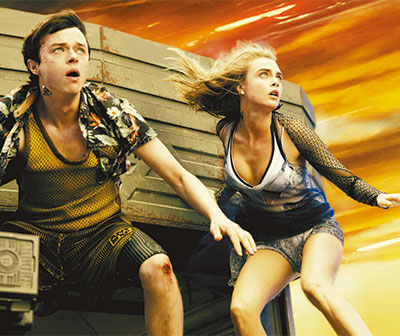 《星际特工:千星之城》
Luc Besson's new sci-fi extravaganza* stars Dane DeHaan and Cara Delevingne as 28th-century operatives racing to save the universe.
The film is based on a comic book created by Pierre Christin and drawn by Jean-Claude Mezieres, which was a fan favorite in Europe from its debut in 1967 through 21 volumes, ending in 2010. Besson hasn't cast leads who look remotely* like the comics' characters; Valerian on the page is a black-haired man, not a brownish-blond kid with the physique of a 1950s teenager, while Laureline's flaming long red hair has not been adopted by blonde model Delevingne.
Besson chose to write the screenscript alone, which is very disappointing.
Given all the different worlds and populations on view, some witty exposition* might have been useful, but the summarizing is saved until the end.
At the beginning, one is presented with an Edenic beach society made up of pale and hairless supermodel types where also to be found are pearl-like spheres of very special value and a rare converter of some kind that needs to be sent to the apparent center of civilization on an enormous space station called Alpha.
What follows is unclear, unfun, and, before long, an excellent sedative*; anyone who could clearly lay out what takes place in this narrative in 25 words or less would deserve a small prize. Valerian and Laureline are armed forces "special operatives" who take orders via video screen from musician Herbie Hancock. As the latter only pops up on a few occasions, the rest of the time it's unclear what the two leads' mission really is, as they seem to be shifting gears and tending to new emergencies* every few minutes.
During lulls* in the action, there are attempts at a romantic banter* between the two leads.
Along the way, there's a pit-stop in a naughty* district, where a guy named Jolly the Pimp (Ethan Hawke) draws back the curtain on a singer-dancer of shape-shifting talents (Rihanna) and, finally, a bad guy does show up in the form of the top-dog military commander (Clive Owen).
(SD-Agencies)