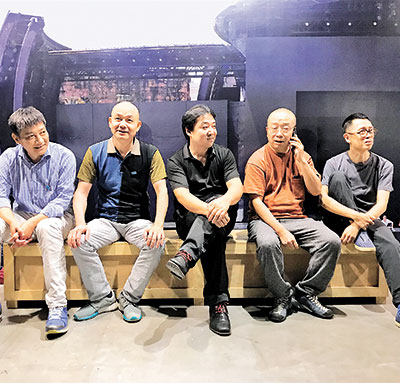 Cao Zhen
caozhen0806@126.com
IF you have something blue, you can donate it to a group of artists who are holding an exhibition at OCT Art & Design Gallery in Nanshan District. In return, they will send you a 10-yuan red packet through WeChat.
The newly-opened contemporary art exhibition "Our Red Packet for Your Favorite Blue" showcases 11 groups of works, all in blue. On the first floor of the gallery, countless contributed items are hung on the wall, including jeans, a basin, a surgery hat, a cookie box, road signs, a globe, toys, shoes, etc.
The items were collected by Polit-Sheer-Form Office, which consists of Chinese artists Hong Hao, Xiao Yu, Song Dong, Liu Jianhua and Leng Lin. Visitors can still contribute their blue items by contacting the gallery staff through the WeChat "mystudio612" during the exhibition. Contributors need to take a photo of their items first and send the photo to the WeChat. Once their items are chosen for the exhibition, they can mail the items to the gallery which will pay the mailing fees and send contributors red packets in return.
Polit-Sheer-Form Office was established in 2005 in Beijing, in an attempt to create a framework to nostalgize collective life in today's consumer-oriented world, while removing the political content historically associated with it. The five men, who were born in the 1960s, hope to both experiment with the core concepts of collectivism by eating, drinking and creating art together.
They chose blue as their artworks' structural color since they believe blue represents broadness, purity, neutrality, depth, the future and tranquility, and blue also reflects the way that Polit-Sheer-Form Office understands the world.
For "Our Red Packet for Your Favorite Blue," Polit-Sheer-Form Office aims to invite the public to participate in their collective way of making art. "WeChat red packets are a modern response to collective life and an object extensively used in social life. Red packets can be sent between friends or even unfamiliar WeChat users to generate happiness," said Sun Linlin, deputy editing director and chief art editor of New Weekly.
A similar artwork is "The World Is Our Factory" on the second floor of the gallery. The five artists invited Shenzhen designers and students to collect blue items such as ukuleles, hats, umbrellas, swim rings and chairs. The artists intend to let people build connections with others through the daily items.
According to Song Dong, one of the five artists, they enjoyed adjusting themselves to fit into collaborative works. "Every artist in the world has unique personalities and shortcomings. We are absolutely equal and willing to set aside the self when doing these projects. We live together sometimes and we have different opinions but in the end, due to our deep understanding and trust, we can change to fit the situation," said Song.
A more unique piece is "Mr. Zheng," a computerized composite head-and-shoulder portrait of a man whose face is made up of the five artists' faces. This piece straightforwardly embodies the union of the group, each contributing his individuality to become a new single entity. At t Polit-Sheer-Form Office's past exhibitions in Beijing, Shanghai, New York City, Seoul, Seattle and Paris, the portrait was used on posters as their collective symbol.
In 2014, Polit-Sheer-Form Office brought 100 young volunteers together in Guangzhou in June to clean a bus with blue cloth and buckets. Then four months later, hundreds of volunteers were organized at New York City's Times Square to clean pedestrian plazas. The two events were recorded in the video "Do the Same Good Deed." The slow-motion video shows the joyful faces of people and the elegance of splashing water, accompanied by a rap rendition of the English words "Polit-Sheer-Form Office." The performance examines the idea of individualism and collectivism in two different social contexts: China and the United States. It also questions whether "doing a good deed" is an individual need or a social need.
Since its establishment, Polit-Sheer-Form Office has collected every receipt, tissue and pair of disposable utensils they have used during their meetings and get-together meals. At the exhibition, they are displaying them as the "Polit-Sheer-Form Items" to constitute a memory of their collective lives.
Dates: Until Oct. 22
Hours: 10 a.m.-5:30 p.m., closed Mondays
Tickets: 8 yuan (students and teachers), 15 yuan (adults), free (children under 1.1 meters, seniors aged above 60, soldiers and people with disabilities), free to the public Tuesdays
Venue: OCT Art & Design Gallery, 9009 Shennan Boulevard, Nanshan District (南山区深南大道9009号华•美术馆)
Metro: Line 1, OCT Station (华侨城站), Exit C