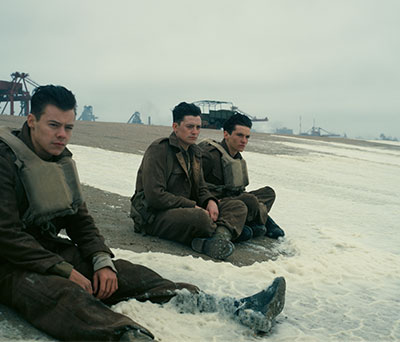 《敦刻尔克》
Christopher Nolan's new film follows soldiers from Belgium, the British Empire, Canada and France as they're surrounded by the German army and evacuated* during the eponymous* World War II battle.
The film dramatizes the calamitous* climax of the attempt by the British Expeditionary Force to help French, Belgian and Canadian forces stem the Germans' swift sweep through France in the spring of 1940. Some 400,000 mostly British soldiers ended up on the beaches of Dunkirk, in northern France, desperate* for a way to make it across the 26 miles of the English Channel.
The shallow* waters prevent the arrival of large ships and English owners of "little ships" were encouraged to make the crossing to help rescue as many soldiers as possible.
Nolan, who wrote the script himself, presents the brutal truth of the situation with pitiless directness. The first scene has several English soldiers being shot at as they run through city streets, and all are cut down except one. Tommy (Fionn Whitehead) makes it to the beach, where he finds thousands of other soldiers already lined up waiting for transport.
Tommy shortly teams up on the beach with two other soldiers, Gibson (Aneurin Barnard) and Alex (Harry Styles), and the three think of a plan to get out on the mole, a long narrow pier where boats can tie up under the supervision* of naval Commander Bolton (Kenneth Branagh) and his army counterpart, Col. Winnant (James D'Arcy).
The only real effort the English military can muster is air power, represented by three Spitfire fighter planes sent to bring down as many Luftwaffe bombers and fighters as they can. The ace flier is played by Tom Hardy, whose face is largely hidden behind a mask.
Another major narrative thread involves the brave effort of a middle-aged civilian sailor, Dawson (Mark Rylance), and his teenage son Peter (Tom Glynn-Carney) to sail their small private yacht across the Channel to bring home whomever they can. They're joined by a friend of Peter's, George (Barry Keoghan), a greenhorn* who has no idea what he's in for, especially after they take on the shell-shocked lone survivor of a sunken ship (Cillian Murphy).
(SD-Agencies)