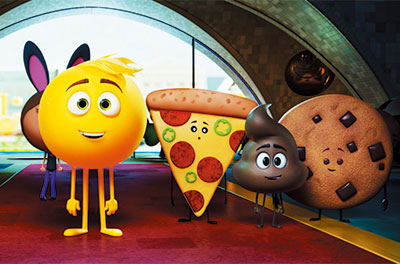 《表情奇幻冒险》
Tony Leondis' "The Emoji Movie" is fast and colorful enough to attract young kids, but offers nearly nothing to their parents.
The project's first hurdle* is imagining how an emoji icon, which by definition represents only one emotional state, can be a character capable of experiencing a story. Its solution is incoherent*. We're told both that "the pressure's always on" for the face-emoji residents of Textopolis to keep their expressions convincing* — smiley or smirking, angry or puzzled — and that they have no choice: That weeping guy keeps gushing tears even when he wins the lottery; he's just programmed that way.
The exception is Gene (voiced by T.J. Miller), a youngster preparing to take over for his old man as the face of Meh. We learn that free-spirited Gene, thanks to some glitch*, is capable of infinite* facial expressions. He has a hard time being deadpan on cue.
His first time on the job, in fact, he fails. In the film's vision of how emojis make their way from a phone's inner universe to its screen when the user selects them, the whole process breaks down if one of the actors can't sit still for a face scan. Gene destroys the app's game show-like stage, and the program's supervisor (Smiler, a ruthless but always-smiling woman voiced by Maya Rudolph) targets him for deletion, sending a team of mean-looking antivirus bots off to get him.
With the help of a high-five icon (James Corden), Gene sets out to find a hacker who can reprogram him and eliminate unwanted facial expressions. Jailbreak (Anna Faris) says they need to escape the phone to do this, getting past a tricky firewall and out onto the cloud.
Getting there affords the filmmakers plenty of opportunities for product placement*.
The characters spend several minutes stuck in Candy Crush; they nearly die in a Dance Dance Revolution-style challenge game. When Jailbreak leads Gene into Dropbox, their pursuers can't follow them inside because "this app is secure."
Leondis and company don't get much mileage out of the vast variety of emojis they might use for sight gags, but they do well enough with the slapstick* adventure of Gene's quest from home to the cloud.
(SD-Agencies)