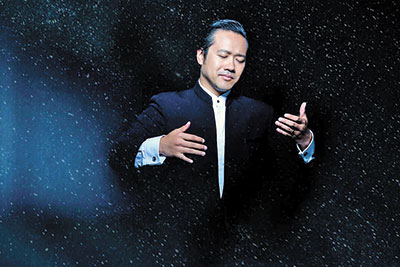 Debra Li
debra_lidan@163.com
NOT intimidated by world-renowned orchestras like the BBC Symphony Orchestra, Shenzhen Symphony Orchestra (SSO) won rave reviews from critics and audiences at the International Festival of Radio Orchestras in Romania in September last year. Soon they will meet the new challenge of performing alongside the Israeli Philharmonic Orchestra led by Zubin Mehta at a summer music festival in Harbin this month.
A year into his post as the artistic director of SSO, 37-year-old Lin Daye honored the endorsement of local fans and his fellow musicians, bringing the orchestra one step closer to the goal of becoming one of Asia's best. "We hope that in the near future, people will rank us with such orchestras as the NHK, Hong Kong Philharmonic Orchestra and Singapore Symphony Orchestra," Lin told a press briefing Monday afternoon.
To achieve that goal, the orchestra has signed more guest performers and will further enrich their repertoire for the new music season which starts in September.
"An orchestra is evaluated by its regular season," said SSO chief Nie Bing. "We're offering up nearly 40 concerts with 26 different programs for the new season, including some concerts on European tours and for audiences in other Chinese cities."
Opening the season will be "Aida" in concert, a big-budget production starring soprano Sun Xiuwei and tenor Gustavo Porta from Argentina, both young opera singers currently active on the world stage. "Set in Egypt, 'Aida' by Verdi is personally my favorite opera," Lin said.
Lin noted that it's an emerging trend in Europe that operas are partially revived via performances "in concert," and his orchestra is trying to bring that trend to China. Apart from "Aida," SSO will also stage "Don Giovanni" in concert, a Mozart opera sung in Italian and meant as a homage to the Italian opera tradition, and excerpts from "The Ring of the Nibelung," an opera by Wagner.
Another bold endeavor of the new season is to stage "Songs of Beuern," a scenic cantata composed by Carl Orff in 1935 and 1936, based on 24 poems from the medieval collection of the same title. The poems cover a wide range of topics, as familiar in the 13th century as they are in the 21st century: the fickleness of fortune and wealth, the ephemeral nature of life, the joy of the return of spring, and the pleasures and perils of drinking, gluttony, gambling and lust. SSO will present the work together with baritone Liao Changyong, soprano Guo Chengcheng and cellist Qin Liwei.
Praised by The New York Times for his "meltingly beautiful tone, flawless centered intonation and an ironclad technique," Qin has signed on to become SSO's regular guest performer this new season. Also on board is Tan Dun, perhaps the best-known Chinese contemporary classical composer and conductor in the West. Signing to become SSO's regular guest conductor, Tan will also bring the Chinese debut of his work "The Rites of the Four Seasons" — inspired by Stravinsky, Vivaldi as well as natural sounds — to local audiences.
Apart from familiar guest performers such as pianists Zuo Zhang and Yuan Fang, violinists Yang Tianwa and Huang Mengla, cellist Qin Liwei, singers Liao Changyong, Sun Xiuwei and Song Yuanming, conductors Christian Ehwald, Zhang Guoyong and Yu Feng, the new season has brought new faces.
Vladimir Fedoseyev, a Russian conductor who has an asteroid named in his honor, will collaborate with pianist Elisabeth Leonskaja to present an authoratative interpretation of Brahms and Tschaikovsky.
Lyu Shao-chia, director of Taiwan Symphony Orchestra and winner of the Pedrotti International Competition for Orchestra Conductors, is hailed as the most established Chinese conductor today. He, together with cellist Qin, will present Dvorak's "Cello Concetos in B Minor" and Tchaikovsky's "Symphony No.6."
Other notable guest performers include Cuban Jorge Luis Pacheco, a fiery young pianist with "flying hands," German conductor Gunther Herbig and Akiko Suwanai, a Japanese classical violinist. At the age of 18, she was the youngest winner of the International Tchaikovsky Competition in 1990.
SSO offers half of their tickets at 50 yuan (US$7.6) and 100 yuan. It will also continue to stream its concerts live, which have been watched by 6 million fans.
Schedule
7:30 p.m., Sept. 15
"Aida" in concert Tickets: 80-680 yuan
8 p.m., Oct. 6
Rachmaninoff and Beethoven (Triple
Concerto) Tickets: 50-480 yuan
8 p.m., Oct. 21
Piano concertos by Beethoven and Rachmaninoff Tickets: 50-480 yuan
8 p.m., Oct. 27
Mendelssohn (Italian Symphony) and Tschaikovsky (Violin Concerto in D Major)
Tickets: 50-480 yuan
8 p.m., Nov. 3
Peer Gynt Suites, Carmen Suites and Brahms' Violin Concerto in D Major
Tickets: 50-480 yuan
8 p.m., Nov. 17
Corigliano (The Red Violin) and Mahler (Symphony No. 5) Tickets: 50-480 yuan
8 p.m., Dec. 1
Wagner opera excerpts ("The Ring of the Nibelung") Tickets: 50-480 yuan
7:30 p.m., Dec. 8
"Don Giovanni" in concert
Tickets: 80-680 yuan
8 p.m., Dec. 22
Christmas concert Tickets: 50-480 yuan
8 p.m., Feb. 2
Bernstein (Serenade for solo violin, strings and percussion) and Brahms
Tickets: 50-480 yuan
8 p.m., March 2
Lantern Festival concert (featuring Chinese composers and instruments)
Tickets: 50-480 yuan
8 p.m., March 9
Mendelssohn (Violin Concerto in E Minor) and Shostakovich (Symphony No. 5)
Tickets: 50-480 yuan
8 p.m., March 30
Chopin (Piano Concerto No. 1 in E minor) and Shostakovich (Symphony No. 10)
Tickets: 50-480 yuan
8 p.m., April 13
Dvorak (Cello Concetos in B Minor) and Tchaikovsky (Symphony No.6)
Tickets: 50-480 yuan
8 p.m., April 20
Mahler (Symphony No. 2 "Resurrection")
Tickets: 50-480 yuan
8 p.m., April 27
Brahms (Piano Concerto No. 2 in B-flat Major) and Tchaikovsky (Symphony No.4)
Tickets: 50-480 yuan
7:30 p.m., June 2
Children's Day concert
Tickets: 50-480 yuan
8 p.m., June 8
Ravel (Mother Goose Suite), Crusell (Clarinet Concerto No. 3 in B-flat Major) and Schumann (Spring Symphony)
Tickets: 50-480 yuan
8 p.m., June 15
Tan Dun's "The Rites of the Four Seasons" Tickets: 50-480 yuan
8 p.m., June 22
Shostakovich (Piano Concerto No. 1 in C Minor, Jazz Suites) and Prokofiev (Violin Concerto No. 1 in D Major)
Tickets: 50-480 yuan
8 p.m., July 6
Bruch (Double Concerto in E Minor) and Tchaikovsky (Symphony No.5)
Tickets: 50-480 yuan
8 p.m., July 13
Lalo (Violin Concerto in F Major) and Prokofiev (Romeo and Juliet Suites)
Tickets: 50-480 yuan
8 p.m., July 20
Carl Orff (Songs of Beuern) and Tchaikovsky (Variations on a Rococo Theme)
Tickets: 80-680 yuan
(All the concerts above will be staged at Shenzhen Concert Hall.)