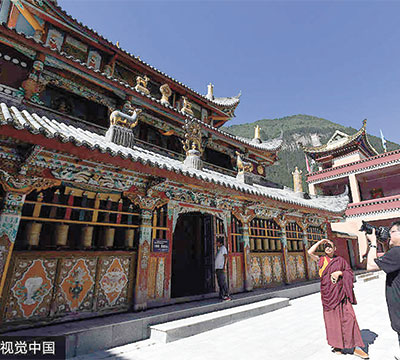 THE Cultural Relic Management Institute of Aba Prefecture in Sichuan Province has conducted a general survey of the cultural relics at the Jiuzhaigou scenic spot after an earthquake last week. The earthquake severely destroyed some of the relics in four counties of Jiuzhaigou, Songpan, Ruoergai and Hongyuan.
A magnitude 7.0 earthquake struck Jiuzhaigou county in Sichuan Province on Aug. 8, and the epicenter was near the Jiuzhaigou scenic area.
On Aug. 13, Chen Xuezhi, head of the Cultural Relic Management Institute of Aba Prefecture, took staff to the Jiuzhaigou scenic area to survey the damage to the cultural relics.
Zharu Temple, with a history of more than 1,000 years, was affected by the earthquake, with the tower footing of the white pagoda split and some of the walls damaged.
"The rear court room of the ancient scripture hall in Zharu Templeis sitting askew, and the Shuzheng watermill is also tilting," Chen said.
Thangka Temple, built in 1450, whose buildings have been shifted, will be difficult to repair. The ruins of the Red Army's Long March, such as the former dwellings of Mao Zedong and Zhou Enlai in Ruoergai region, have also been damaged as a result of the earthquake.
The Songpan ancient city wall, with a length of 6.2 kilometers, was also badly damaged by the earthquake.
The general survey will last for four to five days. (China Daily)