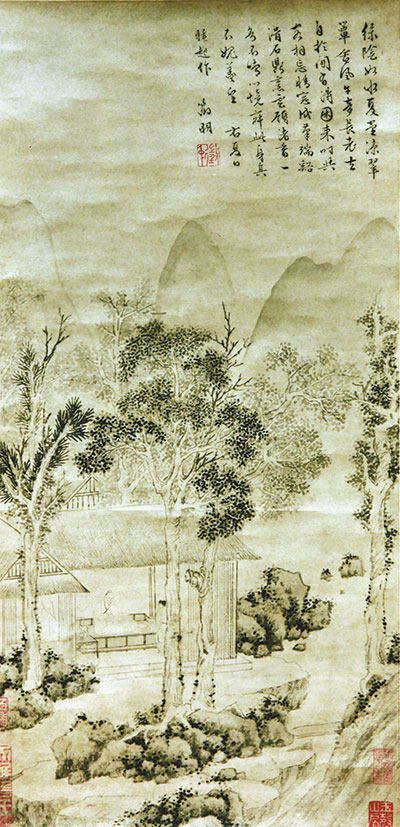 Cao Zhen
caozhen0806@126.com
ART lovers will get a glimpse of paintings and calligraphy by Wen Zhengming, one of the Four Masters of the Ming Dynasty (1368-1644), at a newly opened exhibition at Shenzhen Museum.
The works are on loan from Wuxi Museum in Jiangsu Province which is famous for its collection of paintings and calligraphy created in the ancient Wu area (including today's Shanghai, Zhejiang Province and Jiangsu Province).
The exhibition features regular script and semi-cursive calligraphy and landscape paintings created by literati Wen (1470-1559), as well as his family members and friends, who belonged to the Wu School style. The Wu School is a group of Ming-Dynasty painters united largely by the artistic theories of its members who stressed personal expression in artistic creations. The literati artists of this era knew each other and were very familiar with each other's works and bonded over their close friendships.
Born in Suzhou, Wen studied painting under Shen Zhou, the founder of the Wu School. Wen himself later became a leading figure of the school and was one of the Four Masters of the Ming Dynasty, together with Shen, Tang Yin and Qiu Ying. At a young age, Wen was also introduced by his father to study calligraphy under Li Yingzhen, a leading calligrapher in Suzhou.
"Wen was a late bloomer," said Huang Yangxing, a researcher of Shenzhen Museum. "He was masterful in poetry, painting and calligraphy, but he failed the imperial examinations seven times. When he was 60, he retired from a petty official job, and it was then that his paintings and calligraphy began to be recognized in the Wu area. Wen lived a long life of 89 years and influenced many artists, such as Dong Qichang, a painter, scholar, calligrapher and art theorist of the later period of the Ming Dynasty. Wen's calligraphy later was also very popular in Japan."
Wen's paintings mainly depict landscapes and the literati's leisure gatherings or outings. Literature, painting, poetry, music and opera of various types flourished during the Ming Dynasty, especially in the economically prosperous Wu area. Although the area was a vibrant and affluent hub of political and economic activities, artists of the Wu School sought a simple lifestyle and drew inspiration from the lakes, trees, rivers and hills. Thus, Wu School paintings tend to look tranquil and gentle with light colors, providing a world of natural serenity.
Wen was also a prolific poet. He regarded art and nature as being inseparable, so he incorporated poems on natural scenes in his paintings.
"Artists of the Ming Dynasty drew upon the techniques, styles and complexities of painting achieved by their predecessors in previous dynasties, but added new techniques and styles," said Huang. "Wen's paintings were highly sought after by collectors after his death, and counterfeits of his works were common during the late Ming Dynasty. So some of Wen's paintings we see today might not be genuine ones," he added.
Dates: Until Oct. 22
Hours: 10 a.m.-6 p.m., closed Mondays
Venue: Shenzhen Museum, Block A, Civic Center, Futian District (福田区市民中心A区深圳博物馆新馆)
Metro: Line 2 or 4, Civic Center Station (市民中心站), Exit B