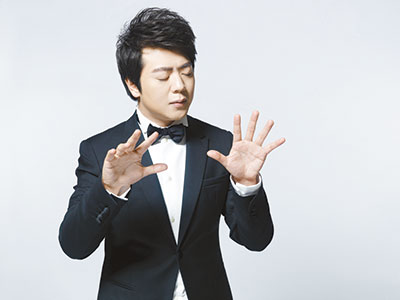 Debra Li
debra_lidan@163.com
LANG LANG'S piano recital marked Shenzhen Concert Hall's opening Oct. 12 a decade ago. This year, the 35-year-old pianist and cultural icon is returning to entertain local music fans and celebrate the 10th anniversary of the concert hall.
The main hall of the venue, after a monthlong renovation, will reopen this Friday night, ushering in a new music season that will last a little over four months, presenting 17 programs of classical, pop and mix-and-match music.
The opening show is brought by pianist Li Yundi and Warsaw Philharmonic Orchestra. The youngest first-prize winner of the International Frederic Chopin Piano Competition in 2000 at 18, Li, a graduate of Shenzhen Arts School, is the pride of Shenzhen people. He will perform Chopin's "Piano Concerto No. 2 in F Minor" and "Piano Concerto No. 1 in E Minor," conducting as he plays.
The season leans heavily on Chopin and piano music. Apart from Li and Lang, audiences will hear Chopin from Russian pianist Daniil Trifonov and Chinese Wu Muye.
Trifonov has made a spectacular ascent in the world of classical music since winning the first prize at both the Tchaikovsky and Rubinstein competitions in 2011 at 20. The Gramophone 2016 Artist of the Year has released three albums with the label.
Having scored his second Grammy Award nomination with "Rachmaninoff Variations," he performed Rachmaninoff for his debut with the Berlin Philharmonic under Sir Simon Rattle at the orchestra's famous New Year's Eve concerts earlier this year.
He has also collaborated with other world renowned orchestras such as Munich Philharmonic, New York Philharmonic, Chicago Symphony, Boston Symphony, Cleveland Orchestra, Philadelphia Orchestra and London's Royal Philharmonic.
Born in Nizhny Novgorod in 1991, Trifonov began his musical training at 5. He has studied composition apart from piano, and continues to write for piano, chamber ensemble and orchestra.
His program will include Chopin's "Sonata No. 2 in B-flat Minor" as well as other composers' works paying homage to Chopin. He will present Mompou's and Rachmaninoff's "Variations on a Theme of Chopin," Schumann's "Chopin" from "Carnival," Tchaikovsky's "A Bit of Chopin" from "18 Pieces" and Grieg's "Homage to Chopin."
Wu, 31, gold-prize winner at the Pontoise European International Piano Contest in 2005, is active on European concert stages. He will perform Chopin's "12 Etudes," some of the most challenging and evocative pieces of all the works in the concert piano repertoire. The pianist will also play Chopin's "Grand Polonaise," works by Liszt, Debussy and Chinese composers.
The highlight of the season will be the debut of Vienna Philharmonic Orchestra (VPO) in town. Founded in 1842 and associated with such legendary names as Gustav Mahler and Richard Strauss, VPO is an orchestra regularly considered one of the finest in the world.
Conducted by Andris Nelsons, music director of the Boston Symphony Orchestra, the VPO will perform Beethoven's "Symphony No. 8" and "A Hero's Life" by Richard Strauss on Oct. 19 and works by Beethoven and Wagner on Oct. 20.
Opera fans will enjoy a solo concert by German operatic tenor Jonas Kaufmann. Born in 1969, Kaufmann is best known for his performances in spinto roles such as Don Jose in "Carmen," Cavaradossi in "Tosca," and the titular role in "Don Carlos." He has also sung leading tenor roles in the operas of Richard Wagner in Germany and abroad, most notably the Metropolitan Opera in New York. He is also an accomplished Lieder singer. He will perform songs by Schubert, Schumann, Duparc, Liszt and Richard Strauss.
String lovers won't want to miss a performance by Philharmonia Quartet Berlin, consisting of Daniel Stabrawa, the first concertmaster of the Berlin Philharmonic Orchestra (BPO), violinist Christian Stadelmann, violist Neithard Resa and cellist Dietmar Schwalke. All having been members of the BPO, the ensemble boasts a varied and innovative repertoire encompassing more than 100 pieces. They will present the works of classical masters Beethoven, Mozart and Schumann for local fans.
For those who enjoy the lighter and more pop-styled music, there are shows by Irish-Norwegian band Secret Garden and talented Chinese singer songwriter Yan Chi. Secret Garden's most famous song "You Raise Me Up" has been recorded by more than 100 other artists.
Fans of Chinese music can attend a concert by Chang Jing and friends. Chang, a guzheng player and composer, will perform "Moonlit Night on Spring River" as well as her own works accompanied by a piano, a cello, a flute and percussion.
Then, presenting the most performed classical pieces in the form of a musical, the Philharmonic of Wit from Poland offers a modern, grown-up version of "Peter and the Wolf" with a wicked sense of humor.
The season also includes a concert by Shenzhen's cultural brand — Lily Girls' Choir — for Teacher's Day, a night of music from Hollywood movies for Christmas Eve and four different programs for the occasion of the New Year.
Free concerts and lectures will be given Saturday and Sunday afternoons alongside the commercial programs.
Schedule
Li Yundi and Warsaw Philharmonic Orchestra in concert
8 p.m., Sept. 1
Lily Girls' Choir in concert
8 p.m., Sept. 9
Chang Jing and friends in concert
8 p.m., Sept. 10
Daniil Trifonov piano recital
8 p.m., Sept. 24
Lang Lang piano recital
8 p.m., Oct. 12
Secret Garden concert
8 p.m., Oct. 14
Vienna Philharmonic in concert
8 p.m., Oct. 19, 20
Jonas Kaufmann solo concert
8 p.m., Nov. 11
Philharmonia Quartet in concert
8 p.m., Nov. 18
Wu Muye piano recital
8 p.m., Nov. 25
Philharmonic of Wit in concert
8 p.m., Dec. 9
Christmas Eve concert by Hollywood Film Orchestra
8 p.m., Dec. 24
Yan Chi solo concert
8 p.m., Dec. 25
New Hamburg Philharmonic in concert
8 p.m., Dec. 30
2018 Shenzhen New Year's Concert
7:30 p.m., 10:30 p.m., Dec. 31
London Philharmonic Orchestra New Year's Concert
8 p.m., Jan. 1
Schonbrunn Palace Orchestra in concert
8 p.m., Jan. 2
(All the above concerts will be staged at Shenzhen Concert Hall. )