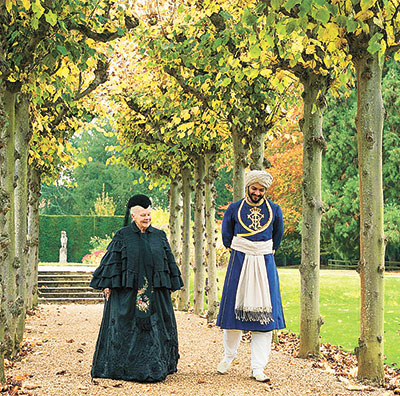 《维多利亚与阿卜杜勒》
In "Victoria & Abdul" directed by Stephen Frears, our first encounter* with Queen Victoria (Judi Dench) comes during a lavish* lunch for her majesty's golden jubilee*.
It's 1887, and the 68-year-old monarch* has been placed at the head of a dining table. She's so bored and depressed* that she can hardly stay awake, so she eats herself into a food coma and looks ready to be wheeled out — that is, until Abdul Karim (Ali Fazal), a 24-year-old Indian clerk who's been chosen to present her with a mohur (a gold coin minted by British India), approaches* her royal highness. Their eyes meet.
And so begins a love affair: not a literal* one, but a mother-son, master-servant, disciple-guru* bond that will stay in place, and grow, for the next 14 years, right up until Victoria's death in 1901. There really was an Abdul Karim, and though "Victoria & Abdul" has a cheeky* introductory title that says "Based on true events ... mostly," the movie, written by Lee Hall, sticks close to the particulars* of how he came to be a special companion of Victoria's.
Abdul is tall and handsome, with thick shiny black hair and a beard. The Indian actor Ali Fazal, a Bollywood star who made his Hollywood debut in "Furious 7" (2015), plays him with a sing-song voice and a polite sweetness. When Abdul first sees Victoria after that lunch, at another public event, rather startlingly*, he gets down on the ground to kiss the queen's foot. Later on, he talks to her, in starry-eyed tones of gentle rapture, about the Taj Mahal and the wonders of Indian cuisine (especially the glories of mango chutney), and he agrees to teach her Urdu, which he calls the most "noble" of Indian languages. When he reveals that he's married, he tells Victoria that she means more to him than his wife does.
Victoria, too, looks up to Abdul: as an exotic force of enlightenment. Abdul remains dutiful, devoted, saintly, obsequious* and servile. Maybe that's accurate, maybe not. The movie appears to be specifically nostalgic* for the relationship between England and India under the British empire.
(SD-Agencies)