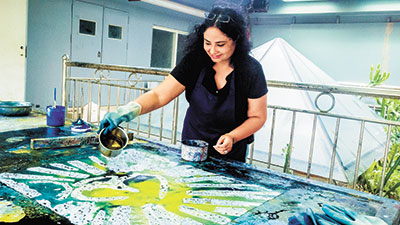 Nan Nan
there_sun@163.com
ON Sept. 1, Shenzhen Daily selected three readers to try their hand at traditional batik and modern batik painting at the Liu Zilong Chinese Batik Studio in Shenzhen Polytechnic, which was opened by artist Liu Zilong and the college.
Batik is a traditional dyeing technique that involves using wax to make patterns on fabric.
"We established this studio in 2012." said Hao Yali, a teacher at the Visual Communication School of Shenzhen Polytechnic who is also teaching at the studio.
"The dean of the School of Art and Design, Zhou Liuqun, and teacher Liu Zilong, built this studio to provide resources for China's art and design education. The main purpose is to pass down and develop Chinese batik art."
Hao is well-known among traditional artists as an international commercial art designer and a member of the Batik Guild, a U.K.-based organization for batik artists, students and teachers.
In educating the readers, Hao first showed them an art piece in which she used three traditional batik painting techniques in one painting.
Next, Hao demonstrated the batik process. She drew patterns on a white cloth depicting flowers and later traced them using hot wax with a pen-like wax spatula. The cloth was then put into a vat of indigo.
After the cloth dried, the wax was removed using boiling water. Beautiful stylistic patterns were left on the cloth.
Finally, Hao introduced the technique of modern batik painting. Like before, she drew patterns on a white cloth and then traced them using hot wax. The cloth was then rubbed, which caused the wax surface to form cracks. During the dyeing process, the dye penetrated into the white cloth through these cracks, creating patterns of irregular colors and forming a unique, artistic effect.
"Teacher Liu chose Shenzhen Polytechnic to build this platform, as our school focuses on students' practices. Like what we've experienced today, you cannot learn batik painting only by knowing theoretical knowledge, you have to paint," said Hao Yali.
Shenzhen Polytechnic has held workshops to introduce this unique art form. "Teachers from Shandong University of Art & Design and Shenzhen University have opened classes about batik after attending our workshops, which is a good way to promote batik," said Hao.
Many students have applied what they learned about modern batik painting into their designs, said Hao. For example, they have combined batik painting with clothing and jewelry, and batik art is reflected in graphic design, such as posters and packaging designs.
At a modern batik painting exhibition held in 2014, many works by Shenzhen Polytechnic's teachers and students were on display. Many students won awards at the exhibition.
"There are numerous students doing work related to art. Some students are art teachers. They teach batik art in their classes and help to spread the art. Such knowledge, like seeds, will lay the foundation of the development of batik art," said Hao.