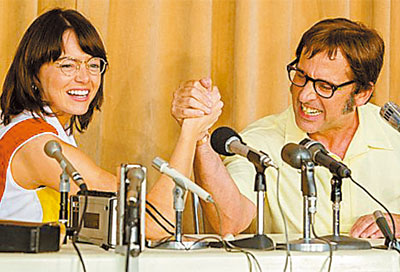 《性别之战》
This film records the momentous 1973 tennis match between Billie Jean King and Bobby Riggs and also deals with the numerous social issues inherent* in the carnival-like contest.
Emma Stone is casted as a star player going through personal turmoil, while co-directors Valerie Faris and Jonathan Dayton top their 2006 smash "Little Miss Sunshine" with a finely tuned piece.
The film captures a moment in time when long-standing social norms were beginning to be upended* by upstarts* of a new generation.
The contest pitted an essentially cartoon version of a male chauvinist pig against* a women's libber who thought women should be paid as much as men. For the clownish Riggs (Steve Carell), the showdown served as a way this largely forgotten former No. 1 player could shove himself back into the spotlight one more time, while for King the issues were real, beginning with how women at the time were earning perhaps one-12th of what men could pull on the circuit.
King is the top name in the women's game and therefore has the most to complain about in terms of unfair pay, a situation the big cheese* of the sport, Jack Kramer (Bill Pullman), refuses to adjust. King is married to Larry King (Austin Stowell), who is her coach, manager and trainer, but in his temporary absence she meets hairdresser Marilyn Barnett (Andrea Riseborough), whose warm vibes very quickly win her entree to Billie Jean's room and bed.
King claims she's never had a female lover before. She well knows that, should this news get out, her career would be over, and she's also troubled by the effect it will have on Larry, who sniffs out* the situation pretty quickly.
King's internal struggle and sense of guilt about her husband affect her career for a while, as her Australian rival Margaret Court (Jessica McNamee) dominates the women's game in 1973.
During this time, gambling addict* Riggs is bored with an executive desk job.
Although his best sports years are three decades behind him, Riggs decides he's going to play into Jack Kramer's sympathetic and wealthy hands and challenge the best woman on the circuit. When King refuses, he lures in court and embarrasses the current No. 1.
This sets the stage for King, who, unlike Riggs, takes the winner-take-all US$100,00 prize seriously, not for the money itself but for what it stands for. She knows she has to win, or else see the cause of equal standing for women in tennis be set back* indefinitely.(SD-Agencies)