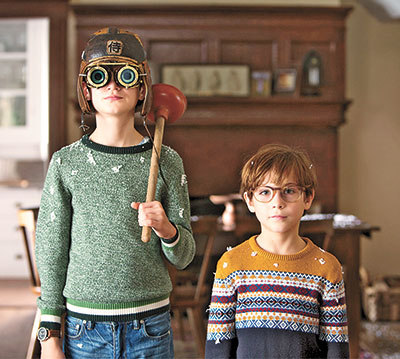 《亨利之书》
Naomi Watts plays Susan Carpenter, single mother of two kids: bespectacled*, adorable Peter (Jacob Tremblay) and genius Henry (Jaeden Lieberher). Henry does his mom's books while she plays video games on the sofa; he calls his stockbroker* while waiting to be picked up from school. When he isn't taking care of his family or engaging in myriad* extra-curricular scholarly endeavors, Henry steals glances out the window into the bedroom of next-door neighbor Christina (Maddie Ziegler). He's so disturbed by what he soon sees that he makes fixing her problem his sole project.
Just as Henry is digging into books about crime investigation and trying to get Child Protective Services interested in Christina's plight*, he collapses in what looks like an epileptic seizure*. It turns out he has a brain tumor. When Dr. Daniels (Lee Pace) comes to his hospital room to break the news, Henry talks to him as if he were a colleague: "My MRI?" he asks, then examines the scans. "Irradiate?" No, not possible. Henry's going to die.
Die he does, but not before insisting that Peter will make sure their mother reads a red journal he has left behind — a book containing all he knows about the house next door and his plan for making things right.
It turns out that Henry wants his mother to become a sniper* and kill Christina's stepdad (Dean Norris), following a very specific plan he started making in the days before his illness was discovered.
He wrote all his instructions to her in his journal. Then he recorded tapes for her to play as she followed those instructions, walking her through every step of the action — predicting her wrong turns, answering the questions she'll ask at the very moment they occur to her, praising her for her surprising acumen* with a rifle.
One might wonder why the about-to-die child didn't just commit the felony* himself, leaving a note explaining his motives.
And the compounding coincidences required in order to deliver a happy ending are almost disgustingly* dishonest.(SD-Agencies)