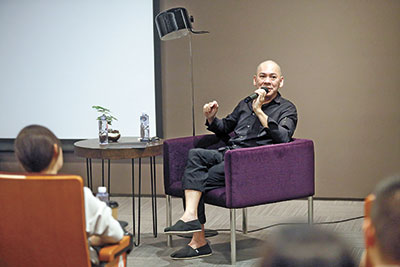 Debra Li
debra_lidan@163.com
TSAI MING-LIANG, a Taiwan-based filmmaker and celebrated master of slow cinema, shared about his experience shooting "The Deserted" and other experimental art piece with a local audience at a lecture earlier this month at Artron Art Center in Nanshan District. Also present was his career-long collaborator and lead actor Lee Kang-sheng.
"The Deserted," a 56-minute VR film that premiered at the recently concluded Venice Film Festival, is a typical example of Tsai's quiet, artfully designed cinematography. With Lee in the lead role, the story involves a man recovering from an illness who is unable to communicate properly with either his mother or the female ghost who lives next door. Instead, he communicates with a fish.
The film's title in Chinese means "The Home at Lan Ruo Temple," which is a short ghost story from "Strange Tales from a Chinese Studio" ("Liaozhai Zhiyi"). Tsai says that the setting matches his own retreat to the countryside where he now dwells next to an abandoned temple.
"The project started when [Lee] Kang-sheng was ill for a couple of years and I was taking care of him. During that time we felt a special connection to the ruins we lived in and the natural environment surrounding it in the mountains," Tsai said. The past several years have taught Tsai that healing is a natural process that sometimes goes unnoticed, and nature plays a part in it as well as interactions with other people.
The director said VR as a medium is very different to work with compared with traditional filming. "For example, you can't do close-ups anymore. Also, as the frame falls away, the traditional notion of composition doesn't apply. The equipment also posed limitations. The actors can't be too far apart from one another."
In a way, Tsai said, shooting a VR film is similar to doing theater, except that rather than being a part of a static audience, the viewer is alone and can choose the angle from which to view the performance. So he saw himself in the role of the viewer and asked "When I enter this other space, seeing what would calm me down?"
Tsai thinks there are many possibilities to be explored with VR apart from gaming or stimulation. "The essence of VR should be the creation of a different space which, upon the viewer's entry, feels real. It should be a space you can observe more freely and in a variety of ways," he said. "Ultimately it still comes down to what you're trying to express through the content."
In recent years, the director has also reached out to fine art audiences by screening his movies at museums.
"One experiment was 'Stray Dogs at the Museum'," he said. "Stray Dogs," about an alcoholic and his two young children struggling surviving in Taipei, won the Grand Jury Prize at the 2013 Venice Film Festival.
"Normally we finish watching a movie in around two hours. But when you watch it at a museum, you can calm down and appreciate it slowly as a form of image art." Tsai even allowed people to stay at the museum overnight and watch his movies between naps. He has also screened his "No No Sleep" (2015) at a museum.
"I would stay and watch the movies with my audiences too, talking with them over a cup of coffee. Visiting a museum can be an interesting experience and an enjoyable part of daily life," he said.
Tsai also revealed that he will arrange for a "museum movie show" at Artron Art Center sometime in the future.