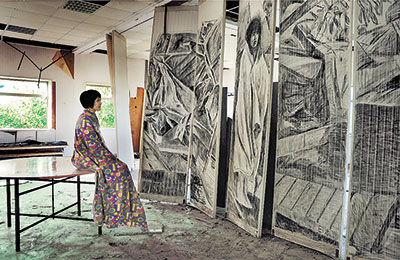 Chen Xiaochun
654789759@qq.com
A PICTURE is worth a thousand words. The International Urban Image Festival this year will continue with the theme last year "Je Est Un Autre," bringing an array of events including a theme unit, photo unit and public unit, said Chen Dong, initiator and director of operation of the festival, and Dong Bingfeng, director of academy of the festival, during the media briefing held Sept. 27.
The theme unit consists of the "Frames of Image" forum and exhibition, and Kang He's "Image and Writing" workshop.
The "Frames of Image" theme exhibition will be unveiled at the art gallery of Shenzhen University on Oct. 12. The exhibits will be presented in various forms ranging from animations to cross-discipline experiments, live art, experimental images and devices.
"How to view images and the discussion on the viewing mechanism is the key focus of the theme exhibition this time. All the artists invited this exhibition and the seven research-based creation cases all present different perspectives," said Dong.
The seven cases start from the modernology of Feng Mengbo's "My Private Museum" and ends with Qiu Anxiong's "The New Book of Mountains and Seas" which is full of critical futurism.
The seven cases also include one of the artists of China Hall at La Biennale di Venezia 2017 Tang Nannan's "Archaeological Project of Global Beach Memory," Gao Junhong's "Image and Crystal Plan in Ruins," "Grain God Narrative" jointly created by Mao Chenyu, Zhou Jing, Zhang Xuebo and Fen Lei, Wu Chao's "Art Awakens PVS Patients," and Kang He's "Anthropology" project which blends writing, theater and experimental image into one.
The image unit, a joint effort with Magnum, is a pilgrimage for professional photographers and shutterbugs.
"The image festival this year has broken the past fixed model of concentrated exhibition in a set time, the activities of the image unit disperse through the whole year and the main event starting from October is the most anticipated," explained Chen.
Chen added that phase two of the Magnum Workshop will be held at Hui Hotel from Oct. 9 to 13 and the Magnum LIVE LAB 2017 will be open for visit at the MixC Shopping Mall starting from Oct. 16.
Initiated by DAKEN ART in 2014, the International Urban Image Festival is the first urban pubic art event in the name of urban area and based on the basic concept of imagery. Through imbedding top-notch images into public space in the city, the festival enables the public to come face-to-face with classic images from home and abroad.
Since its inception, the festival has obtained continuous support from the Special Funds to Promote Cultural and Sports Development of Futian District. Besides, it has fetched the art and literature award of SZ/HK Lifestyle Awards in June this year.