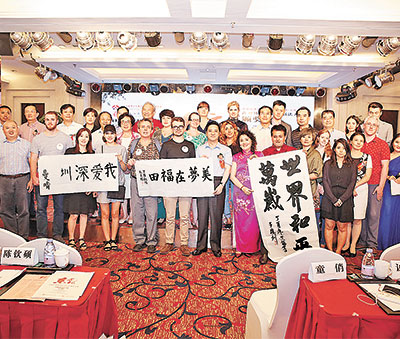 Tan Yifan
cicitan2011@gmail.com
THIRTY-FIVE expats received prizes Sept. 2 in Futian District at the first Chinese calligraphy competition organized for locally-based expats and the submission period lasted over two months.
The Oriental Cup Chinese Calligraphy Contest for the International Community of Guangdong collected about 200 works made by 170 contestants from 23 countries by its July deadline, said the organizers.
Judges from Shenzhen Calligraphy Association ultimately decided to give the highest score to a South Korean contestant, Chang Mi-yong, for her handwriting of famed Chinese poet Du Fu's (712-770) poem "To Mr. Hua," which paid tribute to a beautiful musical composition.
Chang's work displays a nice, comprehensive layout and a clear and neat writing style. Her writing reveals the seriousness of practicing Yan Zhenqing's (709-784) style of calligraphy, said the judging panel.
Chang, who has lived in China for several years, said she was very fond of Chinese calligraphy. "Every Wednesday I invite friends to practice calligraphy at my house," she said. Her two daughters also competed in the contest.
Alan Hernandez from Mexico and Mongolian Enkhsaikhan Munkhtuul won second prizes.
"I first learned Chinese calligraphy by imitating the writing on outdoor advertisements. The more I learn and practice, the better my skills become. Every day, when I get off work, I practice calligraphy for at least one hour," said Hernandez, whose prize-winning work was a sentence from a poem by Su Shi (1037-1101).
Another 10 people from eight countries won third prizes and the rest were given excellence awards.
The competition was co-organized by Futian's information office, Shenzhen Oriental Art Gallery, China (Shenzhen) International Personnel Training Center, Shenzhen Evening News and Shenzhen Calligraphy Association. It was financed by the Special Funds to Promote Culture and Sports Development in Futian District.
The organizers said they will continue to hold the competition to encourage foreign friends to learn Chinese calligraphy and more about Chinese culture.