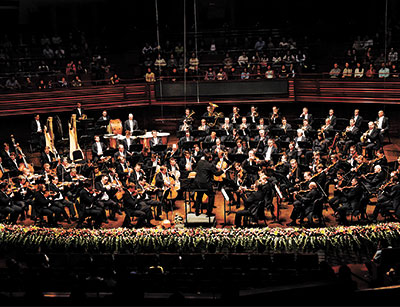 Debra Li
debra_lidan@163.com
THREE decades ago, the Chinese public got their first chance to witness the New Year's concert broadcast by the Vienna Philharmonic Orchestra (VPO). Ever since, each time the orchestra has guest-performed in China has been greatly celebrated by Chinese classical music fans.
Conducted by Latvian conductor Andris Nelsons, VPO made their debut in Shenzhen last week. Founded in 1842 and considered one of the finest orchestras in the world, VPO performed two sold-out concerts Thursday and Friday nights for local audiences, bringing works by Beethoven, Richard Strauss and Richard Wagner. Ceaseless waves of "bravo" accompanied by a long standing ovation from the audience took place when the final note was struck.
A pupil of maestro Mariss Jansons, the 36-year-old Nelsons is one of the most sought-after young conductors in the world today.
VPO, with no resident directors since 1933, collaborates exclusively with the world's top conductors. With Nelsons, they plan to perform all of the Beethoven symphonies until 2020, the year of Beethoven's 250th birthday.
Beethoven himself had conducted his "Symphony No. 7" and "No. 8" with the Orchestra of the Opera House, the predecessor of VPO, and so had Richard Strauss and Wagner. Given that long and closely-overlapping history and tradition, the orchestra gathered that the Chinese audience would enjoy hearing the original classical repertoire played by VPO this time.
They were right. The audience loved their rendition of the "Voices of Spring" from Johann Strauss as encore.
"We want to touch the audience in the heart when we play," said Michael Bladerer, contrabass player and manager of the orchestra.
"When it comes to Beethoven's symphonies, I am sure a Chinese orchestra will also play it perfectly ..., this is not about what is better. We just try to play very special, very intense, and bring out a special style for articulation and phrasing the music."
Shenzhen is the first stop of VPO's China tour, which will include eight more concerts in cities like Guangzhou, Shanghai, Nanjing and Macao.