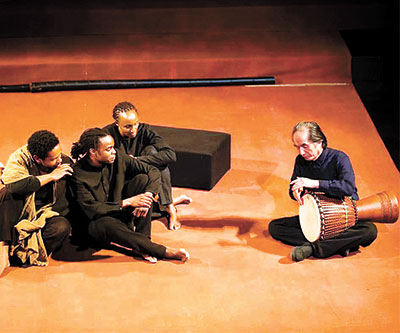 Cao Zhen
caozhen0806@126.com
ENGLISH-LANGUAGE play "Battlefield," which opened at Nanshan Cultural and Sports Center Theater yesterday, is unlike the toe-tapping, Broadway-style musicals Shenzhen audiences are used to seeing. This dark production will give theatergoers an opportunity to witness a work that reflects the harsh realities of ancient wars and modern conflicts.
Directed and written by theater master Peter Brook and his longtime collaborator Marie-Hélène Estienne, the 70-minute play is condensed from the nine-hour play "The Mahabharata" by Brook, Estienne and Jean-Claude Carrière.
"The Mahabharata" opened in 1985 in Avignon and has gone down in theater history as one of the greatest and most memorable productions of all time. It was derived from Indian Sanskrit poem "The Mahabharata." Recognized as the longest poem ever written for its 1.8 million words in total, the epic is roughly 10 times the length of "Iliad" and "Odyssey" combined.
"The Mahabharata" describes a fierce dynastic war between two royal clans, the Pandavas and their cousins, the Kauravas. Both sides use horrific weapons of destruction in their efforts to exterminate the other side. In the end, the Pandavas win, but only after millions are lying dead on the battlefield. Yudhishthira, the king of the Pandavas, confronts the nature of war and questions whether victory is worth celebrating.
Brook, who has won multiple Tony and Emmy awards and a Laurence Olivier Award, once said: "In 'The Mahabharata,' we find all the questions of our lives addressed in a way that is at once contemporary and urgent. Over many thousands of years it shows us, in an always-unexpected way, how to open our eyes to what reality demands."
In "Battlefield," audience members begin the story the end of the bloody war ends off. It tells only a small fraction of the epic, but the themes of the new play are still weighty, as the survivors (Yudhishthira, his blind uncle Dhritarashtra, his mother Kunti and his grandfather Bhishma) are left to pick up the pieces, pondering war and peace, life and death, humans' inhumanity towards others, time and destiny, truth, returning to nature and other philosophical topics.
"After 30 years, time is different, the world is different and Peter has also evolved. 'Battlefield' explores war's deadly cost in terms of lives lost, its aftermath and the search for redemption and inner peace. How can you be happy after such battles? We remade this particular portion of 'The Mahabharata' because we believe it to be applicable to the world and the situation right now," Estienne told the Shenzhen Daily in an interview.
"When we did 'The Mahabharata' 30 years ago, we spent nearly 10 years traveling and researching in India. 'The Mahabharata' is in us. We cannot forget it. It gives us indication and direction in our lives," said Estienne, who has been collaborating with Brook for more than 40 years.
In contrast to the original nine-hour dusk-to-dawn "The Mahabharata" featuring a huge cast and dozens of folk instruments, "Battlefield" uses simplicity to attain maximum effect. It unfolds with only three actors and an actress, accompanied by superb percussionist Toshi Tsuchitori, on a blank stage adorned only with a few sticks and poles of bamboo. The costumes are also very simple robes and shawls.
Estienne said none of the performers are from India, but instead are from different parts of the world, such as Tsuchitori from Japan and Karen Aldridge from the United States.
Aldridge, who plays Kunti, said that although she didn't read "The Mahabharat" in its entirety, she could still render her role in this timeless epic. "It's Indian culture but it's universal. When I play in the drama, I don't completely focus on what's India. I focus on what many people understand. After I read some pieces of the epic, I feel I'm part of the story," she said.
Tsuchitori, who plays a traditional Japanese drum on stage, perfectly underscores the story's shifting moods. He spent two years in India to get inspiration in temples and also created the music for Brook's original "The Mahabharata."
When "Battlefield" premiered in London in 2015, it was acclaimed for its powerful storytelling and stripped-down performance style. "When we staged 'Battlefield' in Shanghai a few days ago, an audience member told me: 'I'm not a king but I can feel the same problems in my life from this play. I can feel myself in the play.' I was touched by hearing this. That's why we do it. It's for you," said Estienne.
Time: 8 p.m., Nov. 7
Tickets: 180-580 yuan
Booking: 400-185-8666
Venue: Nanshan Cultural and Sports Center, 2106 Nanshan Boulevard, Nanshan District (南山区南山大道2106号南山文体中心)
Metro: Line 1, Taoyuan Station (桃园站), Exit B