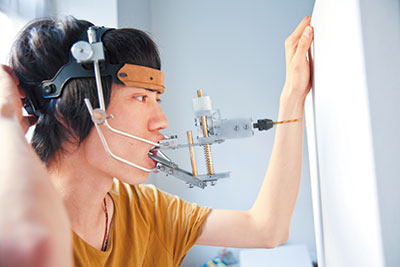 Cao Zhen
caozhen0806@126.com
ART and technology are interlinking now more than ever before, with technology acting as a propelling force in the evolution of art. At He Xiangning Art Museum's newly-opened exhibition, a group of young artists are conceiving new human experiences, pushing the boundaries of art and redefining how we think and feel about today and the future.
At "The Ecstasy of Time: Reshaping the Medium of Knowing" exhibition, 11 Chinese artists offer unique interfaces for understanding the way technology alters our perceptions of nature while also highlighting its effect on the social, ethical and cultural dimensions of our society.
"There are an increasing number of new media art exhibitions now, which signal a growing art trend. In this regard, we continue to pay attention to and organize contemporary art exhibitions by young Chinese artists. But we have no intention of labeling it a 'new' medium because the evolution of the media is so rapid that its scope becomes vague and difficult to define," said Guangzhou Academy of Art professor Hu Bin, who co-curated the exhibition with independent curator Yuan Fuca.
"The artists at the exhibition respond in different ways to the scientific and psychological cognitions of space and time using new media, and thus generate fresh aesthetic forms that are quite different from previous artistic styles," Hu said.
Coinciding with the exhibition, some halls in He Xiangning Art Museum have been transformed for showcasing immersive light and sound installations and videos. In Liu Jiayu's laser installation "The Solidification of the Undercurrent," blue laser lights are projected onto 3-D printed models of Richard III candle sets, calling forth a scene of both modern and ancient quality.
"When science and technology once again define the relationship between time and space in our lives, we should reflect on the increasingly complex role individuals play in our contemporary context, as well as examine unconscious indifferences. As we continue to simultaneously exist in a land of traditional and novel forces, we may begin to perceive the ambiguous and powerful tensions existing between the two," said Liu.
The works presented in this exhibition connect technology with the physical, intellectual and emotional dimensions of life. Artist aaajiao's video "I Hate People But I Love You" features a dialogue between a person and a cyborg, reflecting two types of complex emotions. "We and machines are both undergoing a new phase, conspiring in symbiosis on past and future daily affairs," said the artist whose real name is Xu Wenkai.
Artist Guo Cheng has long been exploring the relationship between humans and machines. He has exhibited his bizarre "Mouth Factory" video in Shenzhen before, and this year, he showed it again together with his new "Still Life Mask" series. In "Mouth Factory," Guo operated a series of functional machines such as a chewing drill, tooth lathe, tongue extruder, blow-molding machine and vacuum form machines with his mouth. The project aims to explore the capabilities and versatility of the human mouth, as well as revealing the aesthetics of manufacturing through a series of devices.
His eerie "Still Life Mask" is a group of 3-D printed masks reconstructed through a photogrammetry tool using a series of Guo's photos. However, the photos were recreated and enhanced by Google's Deep Dream artificial neural network, which is sensitive to basic visual elements such as color and geometry-based features.
"The low-level layer analysis of Deep Dream shows how AI perceives the world at a glance rather than producing an over-processed result. Every visible subject is equal to the artificial neural network of the computer's vision. The pixels that make up an object are the same as those of a living creature. Thus, for the artificial neural network, every glance is 'a still life,' and human subjectivity disappears," Guo explained.
Zheng Yuan's "Image Study Series" is an ongoing series of videos. By compiling footage from computer games, TV news and sports games together, the project demonstrates the permeation of virtual reality into our daily lives, and addresses how the world is represented during the evolution of technology and how our ways of seeing and thinking are reconstructed.
Some artists showcase people getting lost in technology. Fang Di's video "Triumph in the Skies" centers on three stewardesses taking a special pill that changes their appearances into anyone else's wish. After taking the pills, they all have similar doll-like faces and enjoy themselves by dancing hilariously.
Chen Zhou's video "Life Imitation" combines a documentary of Chinese youngsters' life with U.S. video game "Grand Theft Auto." Setting in a virtual futuristic vision of a world full of games, chat rooms and sexting, "Life Imitation" focuses on young people exploring their identities and pushing their boundaries in the real and the virtual worlds. The characters indulge in the virtual world alienated from mundane daily life, but are still left unfulfilled by the online world. They are addicted to their phones as if in anticipation of a life-changing encounter, but all that comes is what has come before.
"One cannot exist outside the digital world now, but the cyber world also fails to fulfill the human desires of emotional connection," said Chen.
Dates: Until March 31, 2018
Hours: 9:30 a.m.-5 p.m., closed Mondays
Venue: He Xiangning Art Museum, Overseas Chinese Town, 9013 Shennan Boulevard, Nanshan District (南山区深南大道9013号华侨城何香凝美术馆)
Metro: Line 1, OCT Station (华侨城站), Exit C