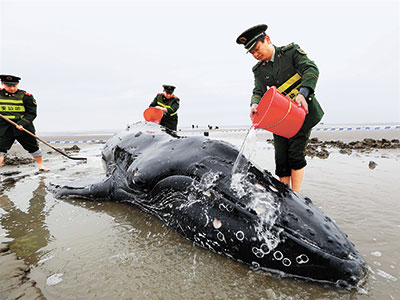 A 7.5-METER-LONG humpback whale ran aground again yesterday on a beach in eastern China's Jiangsu Province, not far from where it was first rescued Monday.
Police and fishery departments in the city of Qidong were attempting to rescue the stranded whale.
Fisherman Yang Fagen said he discovered the stranded whale at noon Monday. He reported it to the police in Lianxing Port in Qidong. Many local fishermen rushed to splash water on the whale, and push it into the sea.
With police help, fishermen dug a ditch on the beach and sent a boat to direct the 3-ton whale toward deeper water during a rising tide at 5:30 p.m. Monday.
Onlookers made live broadcasts of the rescue on social media Monday, with netizens sending wishes and prayers for its safety.
"The whale has many scars on its body, new and old," said Tang Jianhua, a researcher from the Jiangsu Marine Aquatic Research Institute, who joined the rescue Monday. He said it was uncertain if the whale would survive.  (Xinhua)