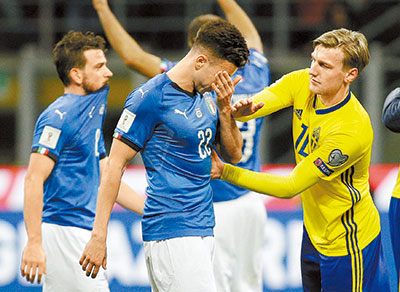 FOUR-TIME champion Italy failed to qualify for the World Cup for the first time in six decades. Sweden advanced for the first time since 2006.
Despite three quarters of possession, Italy was stymied by a goalless draw in the second leg of their playoff Monday and Sweden prevailed 1-0 on aggregate.
"It's a black moment for our game," Italy midfielder Daniele De Rossi said. "Unfortunately there will be a lot of time to analyze it. The only thing I can say is that we showed few ideas and not much in the way of tactics."
The Sweden players ran over to celebrate with the traveling fans, a sea of joyful yellow at San Siro. The Italians looked on in shock and disbelief or put their head in their hands as though it were too painful to watch.
Many of them were in tears, especially captain and goalkeeper Gianluigi Buffon, who played what he said was his last international after 20 years between the posts for the Azzurri.
"We all need to look within and find a way to bounce back," defender Giorgio Chiellini said. "We need to get back to the level we deserve to be at."
Italy had failed to qualify for the World Cup just once before, reaching 14 straight since falling short in 1958. The Azzurri did not enter the first World Cup in 1930.
The last major competitions Italy failed to qualify for were the 1984 and 1992 European Championships.
It could have been worse for Italy, as Sweden was denied what looked like two clear-cut penalties for handballs, first by Matteo Darmian and then Andrea Barzagli.
Italy had a penalty appeal of its own waved off by Spanish referee Antonio Mateu Lahoz when Marco Parolo was tripped from behind by Ludwig Augsustinsson.
But the Azzurri struggled to carve out clear chances, and only one of their six shots on target really tested goalkeeper Robin Olsen.
It would be easy to lay the blame squarely on Gian Piero Ventura. The Italy coach will naturally take the lion's share, but the Azzurri's problems run much deeper.
"I want to apologize to the Italian people for the result," Ventura said. "Not for the commitment, and the desire and everything else but for the result."
The rot started long before Ventura took charge.
After winning the World Cup in 2006 for a fourth time, Italy went out at the group stage of the next two editions. It fared somewhat better at the European Championship, reaching the final in 2012 and quarterfinal elimination in 2008 and 2016.
However, Antonio Conte's Italy side overachieved in France last year, when it surprisingly beat Spain in the round of 16 before losing on penalties to world champion Germany.
For a long time, Italy has lacked a creative force, successors to Andrea Pirlo and Francesco Totti of the 2006 side who could change a match with one moment of magic.
(SD-Agencies)