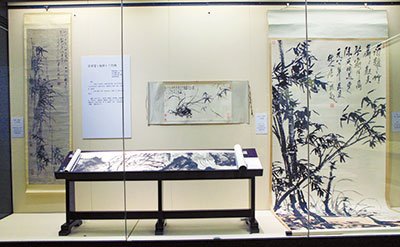 Cao Zhen
caozhen0806@126.com
MORE than 50 paintings of plum blossoms, orchids, bamboo and pine trees created by Chinese masters from the Song Dynasty (960-1279) to modern day are on display at Shenzhen Museum.
Known as the "four gentlemen" in Chinese art, the four plants have typically been depicted in traditional ink and wash paintings since the Song Dynasty because of their refined beauty and the moral character imbued upon them by the Chinese literati.
Ancient Chinese scholars believed that plants had their own unique characters, so plants were frequently used to symbolize moral principles or spirits.
The plum tree is renowned for bursting into bright red blossoms in the winter, in defiance of the severe cold, so the plum blossom symbolizes moral integrity and strength. It basically encourages people to persist through difficult times. The orchid grows in valleys in the spring and ancient Chinese valued it since the flower can live with loneliness, so it symbolizes elegance, nobility and self-respect. Pine trees, also growing in winter, represent perseverance and strong-mindedness. Bamboo, as its shape shows, is upright and easy-going.
According to Cai Huiyao, vice curator of Shenzhen Museum, they didn't exhibit the paintings in chronological order but put similar themes together to present a contrast. For instance, art lovers can admire different bamboo paintings created by Wen Zhengming (1470-1559), Zheng Banqiao (1693-1765), Zhu Qizhan (1892-1996), Guan Shanyue (1892-1996) and Li Xiongcai (1910-2001).
Some exhibited paintings are longer than seven meters and viewers cannot see the whole scroll, so the museum staff have printed some parts out and placed them beside the original scrolls. The exhibition also features collaborative paintings by four famous couples from the 20th century: Xie Zhiliu and Chen Peiqiu, Zhang Boju and Pan Su, Wu Zuoren and Xiao Shufang, and Liu Haisu and Xia Yiqiao. Paintings by the Eight Eccentrics of Yangzhou, eight Chinese painters active in the 18th century, are also on display.
The eight artists, including Zheng Banqiao and Jin Nong, were known in the Qing Dynasty (1644-1911) for rejecting the orthodox ideas about painting in favor of a style deemed expressive and individualistic.
Dates: Until Dec. 3
Hours: 10 a.m.-6 p.m., closed Mondays
Venue: Shenzhen Museum, Block A, Civic Center, Futian District (福田区市民中心A区深圳博物馆新馆)
Metro: Line 2 or 4, Civic Center Station (市民中心站), Exit B