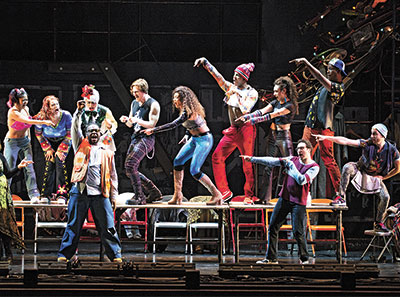 Cao Zhen
caozhen0806@126.com
SHENZHEN is home to a variety of live music and stage shows, along with some major festivals, sporting activities and community events that everyone will enjoy. Currently, four popular international musicals have set dates for shows at the Nanshan Cultural and Sports Center next year. Catch them if you can.
The most anticipated musical is Andrew Lloyd Webber's "Cats," which was staged in Shenzhen in 2008 and will return April 5-8, 2018. Based on "Old Possum's Book of Practical Cats" by T. S. Eliot, "Cats" tells the story of a tribe of cats called the Jellicles and the night when they make what is known as "the Jellicle choice," which is to decide which cat will ascend to the Heaviside Layer and come back to a new life.
Audience members will enjoy the brilliant dancers all spiffed up in their colorful trick costumes, leaping with feline agility through every style of dance, from toe-tapping Broadway jazz steps to more classical ballet moves.
"Cats" first opened in London's West End in 1981 and then with the same creative team on Broadway in 1982. It won numerous awards, including best musical at both the Laurence Olivier Awards and the Tony Awards. It has been performed around the world many times.
Two more light-hearted musicals, "The Producers" on Jan. 18-21 and "Rent" in October, will bring laughter to the audience. The big robust comedy, "The Producers," was adapted by Mel Brooks and Thomas Meehan from Brooks' 1967 film of the same name. The story concerns two theatrical producers who scheme to get rich by overselling interest in a Broadway flop. Complications arise when the show unexpectedly turns out to be successful. The humor of the show draws on ridiculous accents, caricatures of homosexuals, and many showbiz jokes. The original Broadway production opened in 2001, winning record-breaking 12 Tony Awards.
"Rent" is a rock musical loosely based on Giacomo Puccini's opera "La Bohème." It tells the story of a group of impoverished young artists struggling to survive and create a life in New York City's East Village in the thriving days of Bohemian Alphabet City and under the shadow of AIDS. "Rent" gained critical acclaim and won several awards. Next year will be its 20th anniversary.
On Broadway, "Rent" gathered a following of fans who referred to themselves as "Rent-heads." The name originally referred to people who would camp out at the Nederlander Theater for hours in advance for the discounted US$20 rush tickets to each show. The Shenzhen show organizer, AC Orange, will follow that example and sell cheap tickets to young people next year.
The only melancholic selection is the French musical, "Roméo et Juliette." Based on William Shakespeare's play, "Romeo and Juliet," with music and lyrics by Gérard Presgurvic, the musical premiered in Paris in 2001.
At the press conference of AC Orange's 2018 performance season, Eric Dumesnil, the producer of "Roméo et Juliette," said the show tells Shakespeare's story in an entertaining way to allow modern audience members to understand the classic. To express the hatred between the two families, the costumes and lighting are designed mainly in two powerful colors: the Montagues are seen in shades of blue and the Capulets in red.
Damien Sargue, who has been playing Roméo since the original version, said that when he first played the role in 2001, he was only 20 and naive, but now after having his own daughter, he understands more about true love and has developed a more layered rendition of the role.
As a grand performance, ticketing and theater management company, Shenzhen-based AC Orange has been engaged in investing and producing world musicals and dramas in recent years, bringing popular original shows to China, such as "Wicked" and "Madagascar." The low-priced weekend children's plays that have been introduced from various countries are also a favorite of locals.
Try your luck to grab early-bird tickets at www.juooo.com.