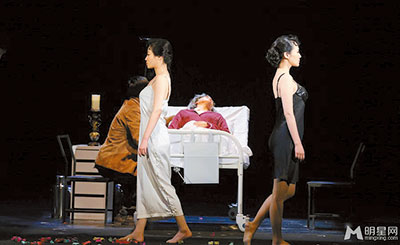 Debra Li
debra_lidan@163.com
A LANDMARK eight-hour play by Stan Lai, a preeminent playwright-director of the Chinese-language theater, is returning to a local stage in March.
The show, "A Dream Like a Dream," thought of as a masterpiece, has 30 actors playing nearly 100 roles in 400 costumes against rotating sets on a four-sided stage. The best seats in a sunken "lotus pond" are in the middle of the stage for the audience to sit on swiveling chairs for a 360-degree immersive experience.
It might first strike anyone as impossible to ask audiences to sit through eight hours (the show is split into two sections performed in the afternoon and evening respectively, with a 20-minute intermission in each section), as we have but a limited attention span in this Internet era. However, most of the tickets have already been sold after sales started last Thursday afternoon.
"All of us are travelers in the rivers of life," said Wang Keran, producer of the play. "And very often we feel troubled and frustrated. A good play touches and consoles people's soul and brings them courage and inspiration to carry on."
First performed in Taiwan in 2000, the play started a tour on the Chinese mainland in 2013 with a leg in Shenzhen.
"In a story, someone had a dream; in that dream, someone told a story." These are the opening lines of this watershed production and a key to the layers of story that unfold in this complex yet highly accessible work.
Audiences will be taken through a slow yet captivating journey of several life stories that draws them in, building anticipation to learn more about each character. A dying patient is telling his story to a young doctor, and like Russian nested dolls, other stories unveil, with more stories within each story. Patterns of love and losse emerge through time and place, from contemporary Taiwan through the exotic Shanghai of the 1920s and the Bohemian Montmartre in Paris of the same period, and a chateau in Normandy, France, with a mysterious lake.
In his dreams, the patient sees a lonely waitress in Paris and an old woman living secretly in Shanghai, who in her younger days met a French diplomat who married her and took her to France where she lived in the chateau and learned to paint. The characters' lives were intricately linked together since.
Besides the costumes and sets designed by Oscar-winning Timmy Yip, the show's appeal also lies in the stellar performances by experienced actors.
The sophisticated storylines effortlessly move from present to past throughout the play, yet remain easy to follow for the audience thanks to the director's decision to have several actors play the same character on stage.
Xu Qing ("Mr. Six") is mesmerizing as Koo Hsiang-lan (one of the key characters) who is sure of her powers of seduction, growing in confidence as a liberated woman, and facing personal tragedy stoically, while Hu Ge ("Nirvana in Fire") convincingly plays the young architect abandoned by his wife and plagued by a mysterious illness who is searching for meaning in life. Both characters make choices that the playwright cleverly leads the audience to romanticizing even further, hoping for connections between the two characters.
Golden Horse best actress Ma Sichun ("Soul Mate") also makes her theatrical debut in this production, taking up a role previously performed by songstress Li Yuchun. "Her role is not the most challenging, but Ma already proves her prowess on the stage and is approved by the director," Wang said.
The cast also includes veterans King Shih-chieh, Tan Zhuo, Hsu Yen-ling and Lai Fanyun, the director's daughter.
Lai once said that this is the one play where he let his "experimental spirit" run free and unrestricted from commercial considerations.
With more than 100 working on the production, which employs 12 trucks for transporting the costumes and props, Wang said he never worried about losing money producing the show.
"I myself was moved to tears when first reading the script; my actors and actresses were moved, and I'm sure the audiences will embrace it," he said.
Wang's company, Beijing Yanghuashidai Cultural Development Co., Ltd., also produced Stan Lai's many other plays including "Secret Love in Peach Blossom Land" and "The Village."
Time: 2 p.m., 7:30 p.m., March 16-18, 2018
Venue: Shenzhen Poly Theater, intersection of Wenxin Road 5 and Houhaibin Road, Nanshan District (南山区后海滨路与文心五路交界处深圳保利剧院)
Metro: Line 2 or 11, Houhai Station (后海站), Exit E
Tickets: 80-1,680 yuan